Carpvalley, Netherlands
carpvalley-visvakantie-in-nederlan-5kopie
carpvalley-visvakantie-accommodatie-grote-karper-nederland-eibergen-viswater-7
carpvalley-visvakantie-accommodatie-grote-karper-nederland-eibergen-viswater-6
carpvalley-visvakantie-accommodatie-grote-karper-nederland-eibergen-viswater-5
carpvalley-visvakantie-accommodatie-grote-karper-nederland-eibergen-viswater-4
carpvalley-visvakantie-accommodatie-grote-karper-nederland-eibergen-viswater-3
carpvalley-visvakantie-accommodatie-grote-karper-nederland-eibergen-2
carpvalley-visvakantie-accommodatie-grote-karper-nederland-ad-brak-15
carpvalley-visvakantie-accommodatie-grote-karper-nederland-ad-brak-14
carpvalley-visvakantie-accommodatie-grote-karper-nederland-ad-brak-11
carpvalley-visvakantie-accommodatie-grote-karper-nederland-ad-brak-04
carpvalley-visvakantie-accommodatie-grote-karper-nederland-ad-brak-01
carpvalley-accommodatie-aan-het-water-visvakantie-slaapkamer
About Carpvalley, Netherlands
Ad Brak, has put a lot of thought and energy into his new carp venue Carpvalley, in Eibergen Holland. He can really be proud of himself, as his hard work and effort, has created a beautiful and charming venue. Ad has put a lot of inspiration into his lake, from spacious swims with electric, to an amazing cabin with all amenities from oven to WiFi. He has also made islands, planted trees and grounded water lily beds. He's stocked the lake with some off the most beautiful fish you could hope to see, really stunning scale patterns. Mirrors, common and some amazing linear's grace this lake.
The estate covers 4.8 hectares, and is fully fenced in. The lake is 2.2 acres and has various depths, going down to 2m. They are four islands spread along the lake, and that combined with the many plateaus, bars, trenches etc. you will always find a feature to fish too. The swims are spread along the length of the lake, and are ideally laid out, each offering access to a large area of featured packed water, without encroaching on your neighbours. At the back of the swims the land is wooded, and banks up to a local road, the noise is minimal as the banking and trees help to buffer the noise out. In autumn 2018 the road will be redirected. So this small problem will be solved.
---
The Cabin
The atmospheric cabin situated at the north end of the lake offers an extra level of comfort. Not only will you find a shower and toilet, but a well equipped kitchen, including a spacious freezer for your freezer baits. There is also a large living room, with access to an incredible veranda, which fronts over the water. When booking the lake as an exclusive, it's possible to fish from the cabin. The cabin also offers a sleeping option for guests. Of course if you book only a swim, all the conveniences of the cabin are open to you. This is especially pleasant during the colder or rainy periods.
The Swims
They are two large double swims, with more than enough room for two anglers and there gear. Both swims offer a vast amount of water, and don't infringe on each other. The swims are linked with a small path.  There are power points on each swim making it possible to charge mobiles, laptops etc. It is also possible to rent a fridge for the swims, for the warmer months to keep your drinks cool. Each swim has a weighing station, and is equipped with a mat, sling, net and retainer.
You can book Carpvalley as an exclusive with a max of four anglers.
The fish stocks are quite varied, with a good mix of mirror and common carp from various strains. In the winter of 2016 an additional fifty fish where stocked to the lake, to boost the original population of large fish. These new carp where selected by Ad Brak not only for their looks, but also for their growth potential. These carp where between 12kg and 21.5lbs, with an average weight 14.8kg, in a short time, a lot of these new fish will be over the 20kg mark. There is also a good head of smaller carp between 2-3kg which make for good fun with the feeder or float rod.
Tags:
Accommodation lakeside
,
fish pond
,
fishtrip
,
Holiday in Netherlands
,
Holiday with family
,
paylake
,
pond
,
whole lake
,
---
Price overview
When you select the arrival and departure day in the agenda, a price calculation will be displayed automatically. And you can book online
Possible to book per week up to 4 anglers and 2 non anglers, in the winter it's possible to book weekends or midweeks
Low season
Weekend a lot more € 575, –
Midweek whole lake € 575, –
Week whole lake € 950, –
peak season
Price 1 angler + 0 non anglers:   £ 1080,-
Price 1 angler + 1 non angler:     £ 1170,-
Price 1 angler + 2 non anglers:   £ 1260,-
Price 2 anglers + 0 non angler:  £ 1080,-
Price 2 anglers + 1 non angler:  £ 1170,-
Price 2 anglers + 2 non anglers: £ 1260,-
Price 3 anglers + 0 non angler:  £ 1215,-
Price 3 anglers + 1 non anglers:  £ 1305,-
Price 3 anglers + 2 non anglers:  £ 1395,-
Price 4 anglers + 0 non angler:   £ 1350,-
Price 4 anglers + 1 non angler:   £ 1440,-
Price 4 anglers + 2 non anglers: £ 1530,-
All prices include tourist tax and excluding € 20, – booking costs.
---
Prices from
£ 1080,- | € 1200,-
Per week
from Saturday to Saturday
Entire lake, accommodation & domain
Additional information
---
Number of guests: 6
Number of anglers: 4
Dogs allowed: Yes, allowed to roam freely
Lake size: 2.2ha
Lake record: 24kg+
Number of pegs: 3
Facilities: Gas,Water,Electricity,Toilet,Shower, Wifi
Impression video
---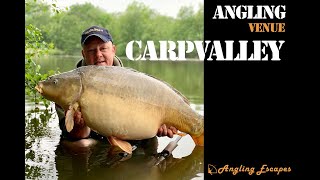 Why book with Angling Escapes?
Safe and trustworthy
Pay directly via various payment methods
4.6 out of 5 stars on
Google
4.5 out of 5 stars on
Facebook
Arranged in 3 simple steps!
Safe and trustworthy
1. Select arrival and departure
2. Enter your information
3. Confirmation and payment

Post a review
Angling Escapes
Average rating:
3 reviews
Oct 5, 2020
BIG DUTCH CARP! LOVE THIS PLACE!
Sep 9, 2020
Mental lake! so many features and the fish are insanely good looking! This was my first trip to holland carp fishing and I can't wait to go back again. I actually preferred it to the usual French lakes I've been to in the past.
Jan 9, 2020
I took my family here and they absolutely loved it. My son was amazed by fishing from the cabin, he done really well fishing from there too maybe it's a hot spot.