Vinkeveen – Flexible campingpod, Netherlands
flexpod-vinkeveense-plassen-polder-karpervissen-in-nederland
flexpod-vinkeveense-plassen-polder-karpervissen-in-nederland-8
flexpod-vinkeveense-plassen-polder-karpervissen-in-nederland-7
flexpod-vinkeveense-plassen-polder-karpervissen-in-nederland-6
flexpod-vinkeveense-plassen-polder-karpervissen-in-nederland-5
flexpod-vinkeveense-plassen-polder-karpervissen-in-nederland-4
flexpod-vinkeveense-plassen-polder-karpervissen-in-nederland-3
flexpod-vinkeveense-plassen-polder-karpervissen-in-nederland-2
flexpod-vinkeveense-plassen-polder-karpervissen-in-nederland-1
flexible-campingpod-vinkeveen-visvakantie-vissen-groot-water-boot-1
About Vinkeveen – Flexible campingpod, Netherlands
Vinkenveense Plassen is 2500 acres of crystal clear water and home to some of the most stunning carp in Holland. The lake is jam packed with features, islands, bridges, marinas and the depths vary from a few feet to 100+ feet. The features don't stop there with huge muscle and weed beds of various vegetation, reed lined and rock lined margins, gravel bars and plateaus there is literally something for everyone here. With the water quality so good it is no surprise that the carp caught here are often big, healthy and extremely strong, add this to the fact the water is so clear and the fish are often fish that have not seen a hook before due to the size of the water, you can be sure once you're connected to one of these carp you will be in for a fight to remember.
This lake produces large common and mirror carp with a lake record currently standing at 66lb with the big fish 50lb+ often being incredible looking warriors. Whilst 20+kg fish captures are not un-common, this is a venue where there really is an element of the unknown and if this water produced a new Dutch record carp, we really would not be surprised. Some anglers like to book this venue and do their own thing which is great if you are an angler that has plenty of experience fishing waters of this size and are competent and confident using a boat.
The owner ensures that the pegs are pre baited!
---
The Vinkeveense Plassen
The fish stock is very diverse. In addition to scaly carps, mirror carps and grass carps, you will also find a large stock of roach, bream, tench, perch, pike and pike on Vinkeveense Plassen. It is very important that you spend enough time looking for cuttings where you can best put the bait. A water viewer (scope) is certainly a handy tool that should not be missing in the equipment. This way you can see exactly where your bait will be. Exactly in that bald spot between the weed, or on the edge of the mussel bed under the protruding tree.
It can be quite busy in the summer with boats that sail back and forth, especially with good weather! Explaining the lines is best done at quieter moments. Do not forget to bring top lead as it is a must because of the recreation.
Spectacular drill
Yet there is nothing nicer to experience a drill on the big water. Usually ancient and very strong scales and mirror carps that demand the utmost of your rod. With your boat after the fish to prevent swimming. The rod over the edge of the boat with the top into the water with a slowly ticking slip. The boat moves with the hard-fighting fish! From the depth you see the first shadow of your opponent appear. The image of that powerhouse that has been pulling you across the water for 10 minutes or more is becoming increasingly clearer. Until the fish finally gives in and slowly glides over the net cord. A fantastic adventure !! That is the reward for a successful fishing session on the Vinkeveense Plassen.
Services
The Flexible Campingpod has 2 single beds.
A small kitchen
Chemical toilet
Refrigerator
It is possible to shower. This is possible on the headland where the chalet is located. Here are public showers and toilets. Depending on where the Flexible Campingpod is located, you can sail towards the headland by boat.
Arrival and departure times
On location you can buy your fishing license at the local tackle shop Hengelsport Vinkeveen.
The owner ensures that the cuttings are fed!
Unfortunately, it is not possible to get to the property by car. On location are bicycles that you can use. Or you can rent a boat to take the gear to the location.
Tags:
boatfishing
,
carp
,
fishing
,
fishtrip
,
holland
,
near amsterdam
,
pike
,
pike-perch
,
public lake
,
---
Price overview
When you select the arrival and departure day in the agenda, a price calculation will be displayed automatically. And you can reserve online.
Bookable per weekend, midweek, week:
Weekend: € 400, –
Midweek: € 400, –
Week: € 800, –
Rent a boat including benzine motor € 75 to € 150 (pay on location)
---
Prices from
£ 400,- | € 400.-
Per week / midweek / weekend
Fri to Fri, Mon to Mon
Mon to Fri, Fri to Mon
Additional information
---
Number of guests: 2
Number of anglers: 2
Dogs allowed: No
Lake size: 1000ha
Lake record: 25kg
Facilities: Gas,Water,Electricity,Toilet
Impression video
---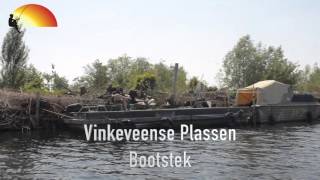 Why book with Angling Escapes?
Safe and trustworthy
Pay directly via various payment methods
4.6 out of 5 stars on
Google
4.5 out of 5 stars on
Facebook
Arranged in 3 simple steps!
Safe and trustworthy
1. Select arrival and departure
2. Enter your information
3. Confirmation and payment

Post a review
Angling Escapes
Average rating:
0 reviews