River Po – Houseboat, Italy
po-italie-vissen-meerval-karper-snoekbaars-woonboot
po-italie-vissen-meerval-karper-snoekbaars-woonboot-5
po-italie-vissen-meerval-karper-snoekbaars-woonboot-4
po-italie-vissen-meerval-karper-snoekbaars-woonboot-3
po-italie-vissen-meerval-karper-snoekbaars-woonboot-2
po-italie-vissen-meerval-karper-snoekbaars-visvakantie-11
po-italie-vissen-meerval-karper-snoekbaars-visvakantie-10
po-italie-vissen-meerval-karper-snoekbaars-visvakantie-9
po-italie-vissen-meerval-karper-snoekbaars-omgeving-1
po-italie-vissen-meerval-karper-snoekbaars-visvakantie-1
po-italie-vissen-meerval-karper-snoekbaars-visvakantie-2
po-italie-vissen-meerval-karper-snoekbaars-visvakantie-3
po-italie-vissen-meerval-karper-snoekbaars-visvakantie-4
po-italie-vissen-meerval-karper-snoekbaars-visvakantie-5
po-italie-vissen-meerval-karper-snoekbaars-visvakantie-7
About River Po – Houseboat, Italy
The immense 652 kilometres long river Po in Northern Italy not only offers stunning scenery but incredible fishing too, this river is to italy what the Ebro is for Spain a big carp and giant Wells Catfish water with big walleye, Zander and Barbel thrown in for good measure. This river really does give flexibility on the fishing, targeting carp today catfish tomorrow, fishing from the banks, boat or houseboat, static ledger fishing, float fishing or trolling baits you really can mix up your fishing with a holiday on the Po. On top of the fishing Angling escapes have made sure if needed there's something for the whole family by offering locations next to a beautiful family fun park resort Centro Nautico.
Our houseboat option offers you the ultimate opportunity to fish the Po! These houseboats have been specifically designed for fishing and have modifications you would not normally find on a house boat. Out on the deck of your houseboat there is plenty of room for casting, and with the deck of the houseboat being at the rear gives you the option to troll baits whilst sitting in the shade of the large awning getting great protection from the sun.
The houseboat has a bespoke railing all around its deck with rod holders built into the railings giving the option to place rods / fish from both sides of the boat.
---
River Po
You can not imagine it so crazy! Everything is possible at location De Po, an immense river in Northern Italy of no less than 652 kilometers long!
Can you already see yourself fishing on this immense river for giant catfish, carp and zander? The houseboat offers you the ultimate opportunity to fish the Po! An apartment on the Po itself! These houseboats are specially designed for fishing and offer you more options than a normal houseboat. You can easily put your line (s) from the plateau. In order to protect you against the sun, there is a large awning. The plateau is on the back of the boat, so you also have the possibility to troll. The houseboat has a railing around it with different rod supports that are placed there, so that you can fish from every side. You also get a dinghy/boat so you can go to the harbor to do your shopping. Moving the houseboat is only done by the owner. There are several boats for rent per day or per week (pontoon boat Laguna or Omega). The houseboats offers you the following. It offers space for 4 people. Fully equipped kitchen (pots, pans, cutlery, glasses), fridge. Hot and cold running water. Shower & toilet. 220v indoor connection up to 800 watts A dinghy to put out your lines. In the area you can go to various beautiful locations to see Italian culture. Of course you can also go to the beach such as Rosolina Mare, Chioggia, Sottomarina, Lido di Spina (Lido di Comacchio) ect.
The houseboats offer you:
Accomadation for up to 4 people
Fully equipped kitchen with pots, pans, cutlery, refrigerator ect.
Running hot and cold water
Shower
Heating (for winter fishing)
Bed linen
12V outside terminals
220V in connection to 800 watts inside
A smaller boat to set your lines and play fish if needed, such as a Laguna boat.
It is also possible to make use of port locations by taking the boat to them, Or you can rent boats per day or per week.
From this location you are ideally placed for visiting beautiful locations such as the beach at Rosolina Mare, Chioggia, Sottomarina, Lido di Spina (Lido di Comacchio) etc, ideal for taking in the local friendly Italian culture.
Tags:
---
Price overview
Can be booked per week for a maximum of 4 people
Price per week £ 1900,- | € 1900,- for 4 people
Extra options
Fishing guide for 2 people (6 hours) € 80 per person excluding fuel consumption.
Fishing licenses cost € 30 per fisherman per week.
Complete fish assembly per rod € 5 per day € 30 per week
Fish bait: eel, crucian carp, bream ect. price on request location
Fishing shop: focused on catfish, zander and carp fishing
Gas bottle for the houseboat € 30
All prices include tourist tax and excluding € 20 booking costs.
---
Availability & Book now
Bookings for this fishing holiday are made in consultation with the owner and can therefore not be made through our automatic booking system.
Communicate your preferences to one of our employees via chat.
You can also reach us by phone on working days between 10:00 and 17:00 on
+44 7432 127981
Prices from
£ 1900,- | € 1900,-
Per week
from Saturday to Saturday
Additional information
---
Number of guests: 4
Number of anglers: 4
Dogs allowed: No
Lake record: 2.3mtr
Facilities: Gas,Water,Electricity,Toilet,Shower
Impression video
---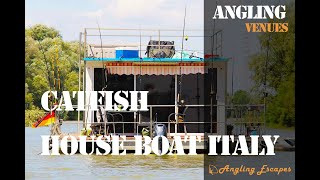 Why book with Angling Escapes?
Safe and trustworthy
Pay directly via various payment methods
4.6 out of 5 stars on
Google
4.5 out of 5 stars on
Facebook
Arranged in 3 simple steps!
Safe and trustworthy
1. Select arrival and departure
2. Enter your information
3. Confirmation and payment

Post a review
Angling Escapes
Average rating:
0 reviews