Inspiration Lake, Netherlands
karpervissen-in-nederland-eindhoven-inspiration-lake-5
karpervissen-in-nederland-eindhoven-inspiration-lake-3
Inspiration-Lake-vissen-vis-vakantie-nederland
Inspiration-Lake-vissen-vis-vakantie-nederland-3
Inspiration-lake-eindhoven-karpervissen-visvakantie-nederland-betaalwater-11
Inspiration-lake-eindhoven-karpervissen-visvakantie-nederland-betaalwater-10
Inspiration-lake-eindhoven-karpervissen-visvakantie-nederland-betaalwater-9
Inspiration-lake-eindhoven-karpervissen-visvakantie-nederland-betaalwater-8
Inspiration-lake-eindhoven-karpervissen-visvakantie-nederland-betaalwater-7
Inspiration-lake-eindhoven-karpervissen-visvakantie-nederland-betaalwater-6
Inspiration-lake-eindhoven-karpervissen-visvakantie-nederland-betaalwater-5
Inspiration-lake-eindhoven-karpervissen-visvakantie-nederland-betaalwater-4
Inspiration-lake-eindhoven-karpervissen-visvakantie-nederland-betaalwater-3
Inspiration-lake-eindhoven-karpervissen-visvakantie-nederland-betaalwater-2
Inspiration-lake-eindhoven-karpervissen-visvakantie-nederland-betaalwater-1
About Inspiration Lake, Netherlands
In the south of Holland, just over the Belgian border, lies a breathtakingly beautiful lake, that will capture the imagination of any true angler. The lake has a large stock of mirror and common carp, and is true heaven for carp fishing. Due to the head of fish and the variety in size, this is a lake that can satisfy any angler, whether you're a novice or seasoned specimen hunter. With a maximum of 4 anglers allowed, this 6-acre lake offers plenty of space, whilst fishing at distances all anglers can be comfortable with.
---
In the winter of 2007 Inspiration Lake was stocked with more carp to complement its already impressive stock. Due to the fact the lake has never been netted to assess the original stock there is still a little bit of an unknown aspect to the water that could throw up some great surprises. The lake was created by excavation in 1972 as a family lake for the Van Der Vleuten Family and has been a well-loved lake since its creation. This love is shown through not only the beautiful scenery on the lakes grounds, but also the stunning, large carp that reside there. Thanks to the owners wanting to share their lake with other anglers this lake is now available for your family and friends to enjoy as the family owners have done over the years. In the words of the lake owners: "I have experienced wonderful times on Inspiration Lake and I wish for you to come and do the same".
DRIVE AND SURVIVE
Inspiration lake is designed for you to enjoy in the traditional sense, bringing with you all the equipment you need to make a comfortable stay in carp andgling paradise!
The fishing spots Inspiration Lake is a real bivvy lake! The 1.5 hectare lake (complex is 2.5 ha) offers space for up to 4 anglers, with each angler having enough space to fish the water properly. However, one should take each other into account if the water is shared with other fishermen. The fishing spots 1 to 4 can be reached by car and the car can remain at the swim. Cuttings 1 and 4 are double cuttings. Swims 5, 6 and 7 cannot be booked, but may be used freely, for example to fish with a pin. Of course you can decide for yourself at which spot you want to sit if the water is completely charged. When you book a site now, you will get an extra site. For example swim 1 if you book this you get swim 2 there. When you book swim 4 you get swim 3 there. This is to improve the distribution on the water when the fishermen do not know each other. Facilities There is a chemical toilet that you can use. Furthermore, this location does not offer any extra facilities. An old boat is present on Inspiration Lake. But the condition of this boat is no longer quite good. So if you want to bring your own dinghy, this is allowed when the entire lake is booked. If you also want to use a boat and have only booked a swim, this must be in consultation with the other fishermen. Please contact us for this.
Tags:
Big Carp
,
brabant
,
carpfishing
,
fish pond
,
fishing
,
holland
,
Netherlands
,
paylake
,
vacacion
,
---
Price overview
When you select the arrival and departure day in the agenda, a price calculation will be displayed automatically. And you can book online.
Can be booked per weekend, midweek, week
Per peg for 2 anglers:
Weekend: £ 240,- | € 240,-
Midweek: £ 320,- | € 320,-
Week: £ 560,- | € 560,-
All prices are excluding € 20 booking costs.
---
Prices from
£ 240,- | € 240,-
Per week / midweek / weekend
Fri to Fri, Mon to Mon
Mon to Fri, Fri to Mon
Entire lake: from £ 480,- | € 480,- (4pers.)
Additional information
---
Number of guests: 8
Number of anglers: 4
Dogs allowed: Yes
Lake size: 1,5ha
Lake record: 28kg
Number of pegs: 7
Facilities: Toilet
Impression video
---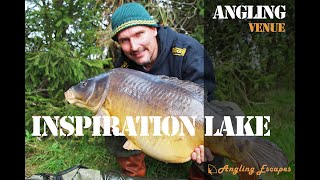 Why book with Angling Escapes?
Safe and trustworthy
Pay directly via various payment methods
4.6 out of 5 stars on
Google
4.5 out of 5 stars on
Facebook
Arranged in 3 simple steps!
Safe and trustworthy
1. Select arrival and departure
2. Enter your information
3. Confirmation and payment

Post a review
Angling Escapes
Average rating:
6 reviews
Apr 8, 2021
This isn't a review it's a question, we're booked for June. What is the preferred bait and is there any catfish in the lake?
Sep 19, 2020
Wij hebben er een week gevist.. hebben 5 karpers en 2 steurs gevangen..de stekken zijn prima en eigenaar zeer vriendelijk.
Sep 9, 2020
I caught a new PB at inspiration lake and my first ever 40lber! The fishing here are really nice and the lake is a Fishermans paradise!
Aug 9, 2020
Me and my friends went here and smashed it up. We had loads of fish up to 42lb and they were all stunning! I don't think we caught one under 20lb either so that's a decent average!
Jun 19, 2020
We hebben met ons gezin een midweek gevist. Nadat we door de eigenaar naar het water waren gebracht konden we gaan opbouwen en rond kijken.je betaal hier echt alleen om te mogen vissen We hadden 2 steuren rond een meter en 3 kapper de zwaarste was qi, w.