Extremadura Carp, Spain
orellana-extremadura-spanje-karpervissen-10
orellana-extremadura-spanje-karpervissen-2-2
orellana-extremadura-spanje-karpervissen-2-1
orellana-extremadura-spanje-karpervissen-9
orellana-extremadura-spanje-karpervissen-8
orellana-extremadura-spanje-karpervissen-7
orellana-extremadura-spanje-karpervissen-6
orellana-extremadura-spanje-karpervissen-5
orellana-extremadura-spanje-karpervissen-4
orellana-extremadura-spanje-karpervissen-3
orellana-extremadura-spanje-karpervissen-2
orellana-extremadura-spanje-karpervissen-0
orellana-extremadura-spanje-karpervissen-1-1
orellana-extremadura-spanje-karpervissen-1
About Extremadura Carp, Spain
If you are looking for a truly epic angling escape, then look no further than the wild and untamed reservoir that is Orellana! Orellana holds a vast amount of carp that grow to colossal sizes, captures have been recorded well over the 80lb mark and there is undoubtedly a host of uncaught monsters lurking in the depths of this relatively untapped angling paradise. The reservoir is more than 12,000 acres in size and is therefore not for the faint hearted!
This package is for the fisherman who seeks adventure and is looking for that catch of a lifetime from a vast and demanding venue. The Orellana reservoir is not an easy water, but with thought and determination the jewels of this gigantic pond can be yours! The venue is located in the province of Extramadura, which is at the heart of the Spanish wilderness, around 150km from the Portuguese border. For many people this is an unknown water, but those that have dared to take on the mighty expanse of water have reaped the rewards. Should you choose to drive to the venue yourself it's worth noting that the rustic Spanish road leading to the waterfront is extremely bumpy, so drive with caution, it's all part of the adventure.
---
More info
In Extremadura there are 3 mega reservoirs, of which Orellana has the most beautiful inhabitants of carp. Furthermore, this water contains giant pike, black bass and Channel catfish too. In the 1960s carp were stocked into Orellana and there has never been another restocking since, the fish in here are steeped in history and have continued to breed and thrive in the nutrient rich waters of this immense reservoir. Because of the mega source of crayfish and the warm temperatures the carp grow to enormous proportions in this lake and they are all in pristine condition. When you hook one of the inhabitants that reside here, expect an electric battle from these wild warriors, the fights are powerful and long lasting to say the least! For the serious carp angler, it doesn't get much better than this, a genuine paradise.
It is worth noting that the islands here are protected for the wildlife and there are very high fines to pay should you be seen disembarking your boat onto one of these conservation areas, so it is not wise to enter them. Due to the strict conservation of nature in the area, the water remains full of life, natural and pure!
Night fishing
Night fishing in general is unfortunately not allowed, however this is done quite often and sometimes a blind eye is turned.
A special night fishing zone has been created for anglers, which is accessible by car, but it's not allowed to bivvy up in this area. For all the other areas night fishing is banned and should you be caught fishing an unauthorised area there will be fines to pay to the local guard. Generally for all areas except for the designated night fishing zone you can fish during the day from sunrise until the sun goes down.
The standard package is priced per week, but if you would like to fish less or more than 7days days, you can send an email to info@anglingescapes.co.uk so that we can offer a customized package.
Extrema Fishing Spain package
7 days fishing trip on Orellana
5/6 days fishing with transport by boat to a place on Orellana
Support of a local top fishing guide
Fishing equipment: Bivvy, bed chair, chair, rods, rodpod, landing net, unhooking mat, scales, weightsling.
1 Dingy with fishfinder, electric motor, battery, life jackets (per reservation, with 4 or more anglers a second boat with accessories)
Cooking stuff + coolbox (pans, cutlery, plates, cups, gasbottle, gasring)
Grocery service 2x
Pre baited pegs
Includes fishing licenses
Excluded: End-tackle, reels, bite alarms, sleeping bag.
Extra options
(Enter the options below into the comments section of your reservation or simply email info@anglingescapes.co.uk to enquire further about these packages)
At an additional cost
Boilies 10 kilos € 65,-
Particle and tiger nuts mix 10 kilo € 30,-
Overnight stay prior to arrival / departure day
Pick up and return service to Seville airport € 300,-
Pick up and return service to Madrid airport € 350,-
Tags:
adventure angling
,
carp
,
carpfishing
,
extremadura
,
orellana
,
reservoir
,
Spain
,
---
Price overview
When you select the arrival and departure day in the calendar, select the number of people / fishermen, a price calculation will be displayed automatically.
And you can book online.
Can be booked per week for a maximum of 4 people, including 4 fishermen
Non angler £ 225,- € 250,- per week
Price per week 1 angler £540 | € 600,-
Price per week for 2 anglers or more £595 | € 550,- per angler
At an additional cost
Boilies 10 kilos € 65,-
Particle and tiger nuts mix 10 kilo € 30,-
Overnight stay prior to arrival / departure day
Pick up and return service to Seville airport € 300,-
Pick up and return service to Madrid airport € 350,-
The price does not include a one-off € 20 booking fee.
---
Prices from
£495,- | €550,-
Per week
Arrival & Departure on request
Additional information
---
Number of guests: 4
Number of anglers: 4
Dogs allowed: Yes, allowed to roam freely
Lake size: 5084ha
Lake record: 36kg+
Facilities: Toilet
Impression video
---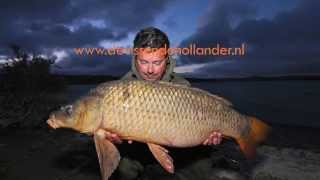 Why book with Angling Escapes?
Safe and trustworthy
Pay directly via various payment methods
4.6 out of 5 stars on
Google
4.5 out of 5 stars on
Facebook
Arranged in 3 simple steps!
Safe and trustworthy
1. Select arrival and departure
2. Enter your information
3. Confirmation and payment

Post a review
Angling Escapes
Average rating:
0 reviews