Stacy's Place, France
Stacys-place-Frankrijk-familie-gezin-vakantie-visvakantie-kinderen-25
Stacys-place-Frankrijk-familie-gezin-vakantie-visvakantie-kinderen-22kopie
Stacys-place-Frankrijk-familie-gezin-vakantie-visvakantie-kinderen-20kopie
stacys-place-frankrijk-familie-gezin-vakantie-visvakantie-kinderen-17
stacys-place-frankrijk-familie-gezin-vakantie-visvakantie-kinderen-15
stacys-place-frankrijk-familie-gezin-vakantie-visvakantie-kinderen-5
stacys-place-frankrijk-familie-gezin-vakantie-visvakantie-kinderen-04
stacys-place-frankrijk-familie-gezin-vakantie-visvakantie-kinderen-03
stacys-place-frankrijk-familie-gezin-vakantie-visvakantie-kinderen-02kopie
stacys-place-frankrijk-familie-gezin-vakantie-visvakantie-kinderen-01
stacys-place-frankrijk-familie-gezin-vakantie-visvakantie-kinderen-1
About Stacy's Place, France
Stacy's Place is a beautiful location fed by a river. And ideal to go as a family with smaller children. The water is approximately 1.2 hectares and surrounded by 1.5 hectares of land. The shallow part of the water is approximately 35cm which drops to 1.5 meters. The bottom of Stacy's Place consists of mud and in some places gravel. Which is interesting for the hijacker to prey on. 3 swims have been created along the waterfront for fishing. A site is located on the side where the accommodation is. And two spots at Stacy's Place are across the street. Despite the cuttings created, you can decide for yourself exactly where you want to sit and fish.
If you have a well-behaved dog, it is welcome at Stacy's Place.
Stacy's Place is ideal for a family visit. The children can make free use of a swing, trampoline and sandpit. The accommodation has a barbecue which you can use. Garden chairs and a table together. If you want to stop fishing for a while, you can take a nice walk towards the village. The village near Stacy's Place has a restaurant, bar and small shop with everything you need.
---
The Fish Stock
Stacy's Place is home to carp, tench, whitefish, sturgeon, pike and catfish (no dwarf catfish). The carp are mirrors, scales, rows or leather carp. The heaviest fish is about 17.3 kg. The heaviest pike is about 8 kg. There are 2 sturgeons in Etang du la Tour and the heaviest sturgeon is 9.5 kg. There are about 170 different carp in the water. So you can fish for many different types of fish here!
The accommodation
At Stacy's Place there is a beautiful mobile home suitable for 6 people. With the following features. There is a toilet, separate shower. A double bedroom with a double bed. One bedroom with two single beds. There is also a bunk bed in this bedroom, but it is only suitable for children.
The property has English TV. The power supply is both European and English. The kitchen is fully equipped with what you need. There is also a gas stove, microwave, kettle and toaster. Tea towels, towels and bed linen with pillows are provided for you.
English meal service per week per person.
Breakfast consists of bacon with eggs or sausage with egg on a baguette.
Evening meal consists of the following meals.
Roast dinner (roast)
Lasagna with salad and baguette with garlic.
Cottage Pie (oven dish with minced meat, vegetables and mashed potatoes)
Chicken Kerry with rice
Chicken wraps with fries
Sausage with egg and fries
Different salads
Spaghetti bolognese with garlic bread
If you are allergic or if you have special wishes, please state them in the comment field during your reservation. The owner of Stacy's Place will take this into account.
Tags:
accommodation
,
carpfishing
,
departement Mayenne
,
fishing in Europe
,
fishing pond
,
Fishing with Family
,
paylake
,
runwater
,
---
Prijzenoverzicht
Wanneer u de aankomst en vertrekdag selecteert in de agenda, aantal personen/vissers selecteert, dan word er automatisch een prijsberekening weergegeven.
En kunt u online reserveren.

Te boeken per week maximaal 6 personen waarvan 6 visser

Niet visser gratis
Prijs per week gehele meer €850,- van zaterdag tot en met zaterdag
Alle prijzen zijn inclusief toeristenbelasting en exclusief € 20,- boekingskosten.
Extra opties
Op locatie is het mogelijk om aas te kopen
Boilies- tiger nut, pineapple and crayfish per kilo €15,-
Carp pellets per zak €50,-
Carp pellets 5 kilo €15,-
Partical mix 15 kilo €35,-
---
Prices
€ 850,-
Per week
from Saturday to Saturday
Verhuur gehele meer
Additional information
---
Number of guests: 6
Number of anglers: 6
Dogs allowed: Yes
Lake size: 1,2ha
Lake record: 17,3kg
Number of pegs: 3
Facilities: Gas,Water,Electricity,Toilet,Shower
Impression video
---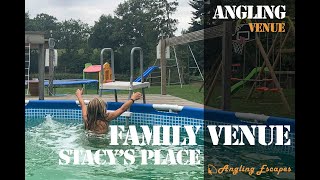 Why book with Angling Escapes?
Safe and trustworthy
Pay directly via various payment methods
4.6 out of 5 stars on
Google
4.5 out of 5 stars on
Facebook
Arranged in 3 simple steps!
Safe and trustworthy
1. Select arrival and departure
2. Enter your information
3. Confirmation and payment

Post a review
Angling Escapes
Average rating:
0 reviews