Casa Texas, Spain
orellana-extremadura-casa-texas-visvakantie-spanje-17
orellana-extremadura-casa-texas-visvakantie-spanje-16
orellana-extremadura-casa-texas-visvakantie-spanje-15
orellana-extremadura-casa-texas-visvakantie-spanje-14
orellana-extremadura-casa-texas-visvakantie-spanje-13
orellana-extremadura-casa-texas-visvakantie-spanje-12
orellana-extremadura-casa-texas-visvakantie-spanje-11
orellana-extremadura-casa-texas-visvakantie-spanje-10
orellana-extremadura-casa-texas-visvakantie-spanje-0
orellana-extremadura-casa-texas-visvakantie-spanje-1
orellana-extremadura-casa-texas-visvakantie-spanje-2
orellana-extremadura-casa-texas-visvakantie-spanje-5
orellana-extremadura-casa-texas-visvakantie-spanje-7
orellana-extremadura-casa-texas-visvakantie-spanje-9
About Casa Texas, Spain
Casa Texas is 10 minutes from the center of Orellana la Vieja and is surrounded by Spanish wilderness, set very close to the immense 12600acre Orellana Reservoir!
This stunning property sleeps up to 7 people, has a luxurious swimming pool with sun loungers, barbecue area and impressive views over the landscape.
Casa Texas got its name from its house type as it is completely made of wood. Casa Texas is geared up perfectly for a family holiday and is located close to the village. This luxury property is set up with everything you need with the added bonus of spacious out door eating areas and pool where everyone will enjoy themselves and cool of rom the Spanish sun.
---
Casa Texas
Casa Texas owes its name to the type of house, which is entirely made of wood. Casa Texas is ideal for going with the whole family because it is close to the village. A day out to the village is definitely worth it. Every Saturday morning there is a market in the village. A canoe trip on the river is also fun to do!
Complete fishing equipment
For fishermen it is possible to rent a complete fishing equipment for carp fishing or predator fishing per day or per week! This makes it possible to fly to Seville or Madrid by plane and rent a car for a little to find your way to Orellana la Vieja. You will have to bring your own mills and baitsounders.
Area
The Orellana Reservoir is the last of the three major reservoirs that control the level of the Guadiana River (seen from where it enters Extremadura) and is located between the La Serena and Vegas Altas del Guadiana regions (both of which are Badajoz province). The still waters of the reservoir dominate in the landscape, flanked by medium-high mountains (Sierra de Pela, 724 m., Sierra del Castillo, 697 m.) That protrude above the large surfaces. When you see the entire area, Orellana is not the only great reservoir in the area. There are many! But Orellana is known for its larger fish. In the village of Orellana la Vieja, close to the house, you can learn Spanish culture or go to the nice bars and restaurants in the evening. There are also restaurants in the harbor and various activities are held here in the summer months. The house is 300 meters from the water. Keep in mind Siesta times. Everything closes at 14:00 and everything opens again between 17:00 and 18:00.
The accommodation
The house is fully furnished according to Spanish standards
The house is supplied with electricity through solar panels. Therefore, be careful with your power consumption. On sunny days it's no problem. But on cloudy days, the unit may have to charge the batteries.
* A fully equipped kitchen with fridge
* Satellite dish with Spanish channels
* Linen and bedding is available
* You must bring your own beach towels, towels and tea towels
* In the living room you have TV and a pellet stove
Ground floor
* Kitchen
* Living room
* Toilet
* Covered terrace
First floor
* Bedroom 1: 2x single bed with TV
* Bedroom 2: 2x single bed
* Bedroom 3: 1x single bed
* Bedroom 4: 1 x double bed
* Bathroom with toilet 2x
Tags:
accommodation
,
black bass
,
carp
,
carpfishing
,
extremadura
,
Fishing with Family
,
orellana
,
pike
,
pike-perch
,
predator
,
Spain
,
---
Price overview
When you select the arrival and departure day in the calendar, select the number of people / fishermen, a price calculation will be displayed automatically.
And you can reserve online.
Can be booked per week for a maximum of 10 people
Price per week £ 1305,- | € 1450 for 6 people
For each additional person € 150 per week with a maximum of 10 people.
Extra options
Fishing license € 15 per person
Towels € 15 per person
Bed linen € 15 per person
Pellets for the stove € 5 per bag
Boat transport € 65 per person with a minimum of 2 people
Inflatable boat with depth meter and gasoline engine € 250 per week
Pick-up and delivery service from the airport € 350 (in consultation regarding the number of people)
All prices are excluding € 20 booking costs.
---
Prices from
€1450,- | £ 1305,-
Per week
Fri to Fri, Mon to Mon
Additional information
---
Number of guests: 10
Number of anglers: 7
Dogs allowed: Yes, allowed to roam freely
Lake size: 5000ha
Lake record: 36kg+
Facilities: Gas,Water,Electricity,Toilet,Shower, Wifi
Impression video
---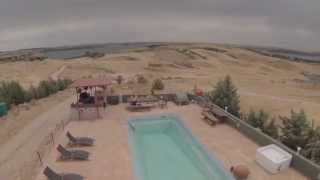 Why book with Angling Escapes?
Safe and trustworthy
Pay directly via various payment methods
4.6 out of 5 stars on
Google
4.5 out of 5 stars on
Facebook
Arranged in 3 simple steps!
Safe and trustworthy
1. Select arrival and departure
2. Enter your information
3. Confirmation and payment

Post a review
Angling Escapes
Average rating:
0 reviews