CarpDream XXL
Karperdroom-XXL-zevenaar-karpervisvakantie-visvakantie-karper-betaalwater-14
Karperdroom-XXL-zevenaar-karpervisvakantie-visvakantie-karper-betaalwater-13
Karperdroom-XXL-zevenaar-karpervisvakantie-visvakantie-karper-betaalwater-12
Karperdroom-XXL-zevenaar-karpervisvakantie-visvakantie-karper-betaalwater-11
Karperdroom-XXL-zevenaar-karpervisvakantie-visvakantie-karper-betaalwater-10
Karperdroom-XXL-zevenaar-karpervisvakantie-visvakantie-karper-betaalwater-9
Karperdroom-XXL-zevenaar-karpervisvakantie-visvakantie-karper-betaalwater-8
Karperdroom-XXL-zevenaar-karpervisvakantie-visvakantie-karper-betaalwater-7
Karperdroom-XXL-zevenaar-karpervisvakantie-visvakantie-karper-betaalwater-6
Karperdroom-XXL-zevenaar-karpervisvakantie-visvakantie-karper-betaalwater-5
Karperdroom-XXL-zevenaar-karpervisvakantie-visvakantie-karper-betaalwater-4
Karperdroom-XXL-zevenaar-karpervisvakantie-visvakantie-karper-betaalwater-3
Karperdroom-XXL-zevenaar-karpervisvakantie-visvakantie-karper-betaalwater-2
Karperdroom-XXL-zevenaar-karpervisvakantie-visvakantie-karper-betaalwater-1
About CarpDream XXL
CarpDream XXL is a beautiful piece of nature in the Netherlands near Didam/Zevenaar. The lake CarpDream XXL is a larger variant of CarpDream in Herpen, but here on CarpDreamXXL the focus is on fishing from a bivvy. And the beautiful fish are not easy to catch. Although there is a chalet placed on peg 1, for extra comfort but without any facilities. If you like nature and tranquility, CarpDream XXL is certainly a beautiful location for a carp fishing holiday.
When you make a reservation, you have the entire water to yourself! In the spring and autumn the water is crystal clear and you can almost see the bottom. Although CarpDreamXXL is about 2 hectares in size, it is a real challenge to catch these carp. It takes tactics, snag fishing, and thinking! The water lies between the fields and is surrounded by beautiful large old trees. A farmer has the right of way to get to visit his land. And is almost the only person you will see.
---
The Lake
CarpDream XXL has a very beautiful natural atmosphere. The depth of CarpDream XXL varies between 2.5 and 4.5 meters and there is an island / headland in the lake. The water around the island is shallow with weeds and is regularly visited by carp for feeding. This swim can only be fished from swim 3. But it is also nice to fish here with the floater rod! However, there are weeds and obstacles in the water. We therefore recommend that you have some experience in this and possibly bring the necessary materials for fishing. Adjust your fishing strategy. And every winter there is some new stock added. To keep everything in balance.
There is the posibility to rent a dingy. Or if you have a dinghy you are allowed to use it. However, the use of a boat is at your own risk, so wear a life jacket! There is also electricity with European plugs to charge your bateries.
The Chalet
The chalet is located on swim 1 and provides a nice shelter against the rain or the wind, but also against the warm sun in the summer. A power point has been made in the chalet and has a fridge. Furthermore, the chalet has no facilities, such as beds or a kitchen. But very nice not to have to set up a tent. And to be able to grab a cold drink!
There is a chemical toilet on site. And you also have the possibility to take a shower.
The fishing spots
CarpDream XXL is more than 90 years old and about 2 hectares in size. The entire site is 4 hectares on which 3 pegs have been created. Because you have the entire lake to yourself. To a maximum of 4 people.
You can reach swim 1 at all times by car and you can park the car. This site offers space for several anglers. But we recommend a maximum of 6 rods from this spot.
Swim 2 can only be reached by car when it hasn't rained for a while. This site offers space for 1 angler (3 rods).
Swim 3 can only be reached by car when it hasn't rained for a while. This site offers space for 1 or 2 anglers.
You can imagine that it is a relaxing environment, where you can have a nice fishing holiday. The water is equipped with a number of fishing spots, which offer the possibility to fish the entire water. Overhanging trees, reed borders and large lily fields make the crystal clear lake a feast for the eyes.
Tags:
carp
,
Dogs allowed
,
fish pond
,
fishing vacation
,
fishingtrip
,
holland
,
paylake
,
whole lake
,
---
Price overview
When you select the arrival and departure day in the calendar, a price calculation is automatically displayed. And you can place your reservation online.
Available per weekend, midweek or week, and you have the whole lake to yourself:
Price per weekend 4 angler + 2 non-angler £ 536,-
Price per midweek 4 angler + 2 non-angler £ 626,-
Price per week 4 angler + 2 non-angler £ 716,-
All prices are exclusive of € 20 booking costs.
---
Prices from
£ 536,-
Per week / midweek / weekend
Fri to Fri, Mon to Mon
Mon to Fri, Fri to Mon
Lake exclusive £ 536,- (4p. per weekend
Additional information
---
Number of guests: 2
Number of anglers: 4
Dogs allowed: Yes
Lake size: 2
Lake record: 25kg+
Number of pegs: 3
Facilities: Toilet, Electricity
Impression video
---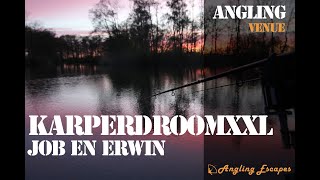 Why book with Angling Escapes?
Safe and trustworthy
Pay directly via various payment methods
4.6 out of 5 stars on
Google
4.5 out of 5 stars on
Facebook
Arranged in 3 simple steps!
Safe and trustworthy
1. Select arrival and departure
2. Enter your information
3. Confirmation and payment

Post a review
Angling Escapes
Average rating:
3 reviews
Apr 9, 2020
5stars! I have visited this venue with my partner several times now and we simply love the peace and tranquility here as well as the incredible fishing!
Mar 9, 2020
I Booked me and my husband onto CarpDream XXL recently and we both loved it. We caught plenty of fish and we were amazed by how charming the place is. We can't wait to go back again!
Jan 9, 2020
CarpDream XXL is such a well kept little venue. the fishing is tricky, but the fish are worth the effort. My god do they look good! I highly recommend this venue if you're a carp angler that loves peace, tranquility and mega dutch carp!