The river Lot
bootvissen-rivier-de-lot-grote-karper-openbaarwater-10
bootvissen-rivier-de-lot-grote-karper-openbaarwater-9
bootvissen-rivier-de-lot-grote-karper-openbaarwater-8
bootvissen-rivier-de-lot-grote-karper-openbaarwater-7
bootvissen-rivier-de-lot-grote-karper-openbaarwater-6
bootvissen-rivier-de-lot-grote-karper-openbaarwater-5
bootvissen-rivier-de-lot-grote-karper-openbaarwater-4
bootvissen-rivier-de-lot-grote-karper-openbaarwater-3
bootvissen-rivier-de-lot-grote-karper-openbaarwater-2
bootvissen-rivier-de-lot-grote-karper-openbaarwater-1
bootvissen-rivier-de-lot-grote-karper-openbaarwater-0
About The river Lot
The River Lot is a biblical place for hardcore carp anglers! The Lot is a natural river that starts its path high up in the Central Massif. From there, the river winds to the west where it eventually flows into the Garonne. Between the source and confluence you come across some of the most beautiful places in Europe such as the world renowned town of Cahors and the slightly less well-known yet equally quaint town of Cajarc. Two of the most jaw dropping scenes can be found at Saint Cirq Lapopie and Puy l'Eveque, both of which are widely considered to be the most beautiful places in France. The River Lot is a true escape from reality and there is something truly majestic about this body of water and the scenery that follows the flow. It's quite simply a paradise for carp anglers and is most certainly an experience you will never forget!
The most luxurious carp boat ever made is under construction. Do you want to experience a fishing holiday without any worries? Then contact us for more information.
---
River Lot
Fishing in France is always a special experience, fishing the big rivers in France is something beyond special, it's one of the ultimate carp angling experiences that you simply must do in your lifetime. If you've never encountered it before you will know exactly what we mean once you return from this incredible venue! Whilst enjoying the beauty of the Lot and soaking up the summer sun, there's always the chance of an absolute fish of a lifetime here. Coming to a venue that is 400km long that is alive and evolving with every season is not something to take on lightly as it's extremely difficult to conquer this river without the right knowledge and tackle behind you. This is why we provide an experienced guiding service and equipment hire to boot so you have both a world of knowledge at your finger tips and trusted tackle that is right for the job.
Both our experienced guides, Joachim and Mathieu are happy to share their knowledge and experience with carp anglers who also want to try their luck on this mighty river. They will do everything in their power to arm you with the right knowledge, put you on the right spots and give you the very best chance of catching a fish of a lifetime. They will give you a tour of the best parts of the river, they will take you to destinations that are safe, unspoilt and truly magical in every sense of the word. The advise the can share and the service they provide is second to none and you will feel right at home with these two friendly faces. There is never a 100 percent catch guarantee, but looking at our history of clients and knowing the service that Matthieu and Joachim provide we can confidently say you'll have a 99% certainty of a fish. The beauty of the river is that different sections suit different styles of fishing, for example if you think catching a high number of carp is important for your holiday, then the guys will put you on the best spots for that. But if you prefer the chance of biblical sized carp, this is also no problem as there are plenty of 30kg+ fish to be caught within the Lot.
Fishing Guides
Joachim Stelma is a Dutch (speaks English) fishing guide on one of the most famous rivers in France, The Lot. For many years he spent a large amount of time in France, regularly spending at least ten weeks a year to catch carp here. "I prefer to visit the mysterious rivers such as the Rhône and especially the Lot. Rivers are often beautiful in nature and harbour an enormous amount of fish, including (very large) carp. Many sessions were successful, but many more sessions were all about discovery and searching.
For years I have been coming to the Lot. I can find just about any path that leads to the river. It is a hobby within a hobby. I want to know everything, I sort everything out. It has led to a lot of knowledge about the river. Think of water levels / currents, fishing techniques (per season) and especially the carp stock per dam section. "
Mathieu Morel, is a very passionate carp angler and has been active on the Lot for more than twenty years. "I literally live on the river and therefore know the Lot from start to finish. Since I can walk I have been fishing on the Lot, at least three or four nights a week for the last ten years. Compared to me, Joachim knows maybe 1% ;-). With my experience I can help you to experience the session of your life. Several Lot carp of more than 30 kg already saw my unhooking mat.
Fishing techniques
River fishing, certainly on the Lot, is different from fishing on a lake. It requires a lot of knowledge, experience and extremely tough tackle to be able to fish in different circumstances.
Why carp anglers are afraid of the river?
Rivers are moving beasts, it's a very different environment to a still lake or pond. The flow of the river can change dramatically at any given moment due to circumstances art source or further upstream that you are unaware of. Even in the summer after weeks without precipitation it can suddenly start flowing very fast. This is where Joachim and Matthieu's knowledge is invaluable, they know how to react when the river changes her mood. When is the best time to visit? There is actually no answer to this. Every period has its charms and carp can be caught well all year. The current is at its slowest in the summer. Spring is often somewhat more volatile in terms of weather and the flow can be very unpredictable. The autumn is very stable though and it's usually comfortable fishing until November!
Difference in sections
Each section of the lot is different to the next, they change in length, depth, soil type, vegetation and the quantity and size of the carp that live there. Some pieces mainly house lean and hard fighting carp that are typical of river fish you might find in the UK. On other sections, you can find extremely large mirrors in abundance. There are also sections that have a combination of these two. This information is provided before arrival so that you can evaluate the type of section you would like to target before arriving with the guides.
Material and boats
Boat: F-818
ideal for the comfort fishermen
Gangway around the entire boat
Unique anchor system on fast and easy to anchor the hardest bottoms. Two large bathing platforms at the rear of the boat
• More than seven meters long (including drill platforms) and two meters wide
• Dark green finish
• Large lockable tent, light in color so also comfortable in summer
• Two good beds (adjustable slatted base with very thick comfortable mattress)
• A winch with weight at all four corners to quickly and easily secure the boat in the right place
• Two large drill platforms at the rear of the boat for easy access to the dinghy
• Gangway around the entire boat
• Refrigerator for keeping food stocks fresh
• Two-burner gas cooker on board including cookware
• Nice deck with hatch to store bait under
• Two large storage boxes
• Seats
• Electricity on board (batteries with solar panel for continuous power supply)
• Lighting in the tent and on the deck
• Shower on board
• Dinghy (230 dinghy with electric motor and depth meter)
The Boot F 818
Week: Saturday to Saturday
Including
Dinghy with electrical or gasoline
Fish finder
Two comfortable seats
Bedding
Unhooking mat
Weighsling
Landing net
Two rod pods with bite alarms
2 burner gas stove
Cookware (pans, plates, cutlery and cups)
Toilet
Cleaning supplies
Sun shower
Order permit online
You can purchase a permit via www.cartedepeche.fr and print it out. The website is available in English. You must first create an account and upload a photo. Then choose what kind of permit you want. A holiday permit is valid for seven days and costs € 32. Choose Prayssac from "association". The rest is self-explanatory. If you cannot find a solution, please contact us.
Tags:
boat fishing for carp
,
carpfishing
,
departement Lot
,
fish trip
,
Public waters
,
renting
,
River fishing
,
---
Price overview
When you select the arrival and departure day in the agenda, select the number of people / fishermen / boat, a price calculation will be displayed automatically.
And you can reserve online.
Can be booked per week up to 2 people
Price per week F818 € 450,- | £ 450,-  for 2 people
Extra options
Dingy including electric motor and battery € 90
Refrigerator including gas € 50, –
Kamado barbecue including charcoal and firelighters € 35, –
Gas stove and cooking utensils (pans, plates, cups, cutlery) € 25, –
Extra battery € 45, –
Unhooking mat, weighsling and net € 20, –
Shower at boarding point € 5 p.p. at a time
Order permit online
You can purchase a permit via www.cartedepeche.fr and print it out. The website is available in English. You must first create an account and upload a photo. Then choose what kind of permit you want. A holiday permit is valid for seven days and costs € 32. Choose Prayssac from "association". The rest is self-explanatory. If you cannot find a solution, please contact us.
Deposit of € 250,- which you get back to your stay.
All prices include tourist tax and exclusive, fuel, deposit, € 20 booking fee.
---
Prices from
€450,- | £450,-
Per week
from Saturday to Saturday
Additional information
---
Number of guests: 0
Number of anglers: 2
Dogs allowed: No
Lake size: River
Lake record: 35kg+
Facilities: Toilet, Electricity
Impression video
---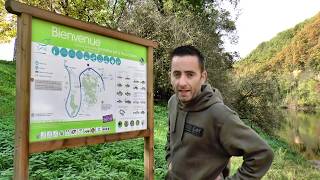 Why book with Angling Escapes?
Safe and trustworthy
Pay directly via various payment methods
4.6 out of 5 stars on
Google
4.5 out of 5 stars on
Facebook
Arranged in 3 simple steps!
Safe and trustworthy
1. Select arrival and departure
2. Enter your information
3. Confirmation and payment

Post a review
Angling Escapes
Average rating:
0 reviews