Extremadura Predator, Spain
orellana-extremadura-roofvissen-14
orellana-extremadura-roofvissen-13
orellana-extremadura-roofvissen-12
orellana-extremadura-roofvissen-11
orellana-extremadura-roofvissen-10
orellana-extremadura-roofvissen-9
orellana-extremadura-roofvissen-8
orellana-extremadura-roofvissen-7
orellana-extremadura-roofvissen-1-2
orellana-extremadura-roofvissen-1
orellana-extremadura-roofvissen-2-1
orellana-extremadura-roofvissen-2
orellana-extremadura-roofvissen-4
orellana-extremadura-roofvissen-5
orellana-extremadura-roofvissen-6
About Extremadura Predator, Spain
The rugged Extremadura lies between Madrid and Seville, towards the Portuguese border. Here are numerous large and smaller reservoirs with a great stock of pike, zander and black bass. Here we have a Dutch guide with a fully equipped Lund Sportsman fishing boat. All materials are present. Fishing rods, reels, reels and of course lots of lures. The program is adjusted to your wishes. Do you want to cast, troll, dropshot or vertical. A combination of options? You ask, he sails. Of course he knows many places where there is a good chance of catching fish, which greatly increases the chance of a successful holiday. There is also the possibility that more boats can be arranged with a guide if you want to come with 4 or 6 people.
There are many beautiful lakes in the rugged Extremadura. Embalse de Garcia de Sola, 1000 hectares of Zujar, 5000 hectares of Embalse de Orellana, 15,000 hectares of La Serena and of course the smaller waters and rivers around the corner. The great thing is that in April and May the temperatures are also very pleasant. On a sunny day it can easily reach 25 degrees. So sunscreen and sunglasses should certainly not be forgotten. De Vissende Hollander has various options for a stay in Extremadura. From a neat caravan right on the waterfront, a simple apartment to a luxury house with swimming pool. Everything is possible.
---
Extrema Predator
Because you are on holiday in the poorer part of Spain, you will find that eating or shopping are also a lot cheaper than you are used to in the Netherlands. Flying is the easiest because of the greater distance. And since the guide already has all the materials for you, you only need to bring some clothes, towels and maybe your favorite bait. You can fly to Madrid and Seville. We recommend Seville because this has a great airport that is small and well-arranged. Easy to pick up your rental car. You are also quickly out of the city and you are driving on the large quiet and uncluttered highways towards Orellana la Vieja. The distance is almost 300 kilometers, but because the roads are wide, quiet and uncluttered, this goes quite smoothly.
Of course you can also fly to Madrid. The distance in about the same distance, you just take a little longer to get out of the city and the airport is a lot bigger and busier. Whichever airport you choose, I can guarantee that it will be a great trip. The nature and surroundings, the drawings of the pike, the weather, the birds of prey circling above your head and the friendly Spanish mentality will surprise you. Once this way and I'm afraid it will become an addiction for life.
Everything is available in the village of Orellana la Vieja. Restaurants, bars, 2 supermarkets. There is a market every Saturday morning. When you rent Caravana de la Pesca, it is possible to have breakfast with us and to prepare your lunch for the boat. Many accommodations are possible in the area. If you want help with this, please feel free to contact us. It is also possible to arrange more predator fishing boats with a guide if you want to go with a larger group, this is possible in consultation and at an additional cost.
Including
Fishing guide (8 hours a day, 5 days fishing)
Fishing license
Reels, fishing rods, lures
Breakfast and lunch (when you rent caravana de la Pesca as accommodation)
Predator fishing boat Lund 4 persons, 3 depth meters, front roller, back roller, 90 hp gasoline engine
Exclusive
Airline ticket
Accommodation
Rental car
Food and drink
Tags:
big lakes
,
Blackbass
,
pike
,
predator fishing
,
Sander
,
Spain
,
with guide
,
---
Price overview
When you select the arrival and departure day in the agenda, a price calculation is automatically displayed. And you can reserve online.
A week consists of 7 days staying 5 days fishing.
1 fisherman per week € 650
2 fishermen per week € 1150
3 fishermen per week € 1725
4 fishermen per week € 2300
5 fishermen per week € 2875
6 fishermen per week € 3450
Extra options
Extra boat + fishing guide (max 2 fishermen) € 300 per day
Accommodation Caravan 2 pers. € 350 per week
Basic Hotel 2 pers. € 450 per week
House for 4 people € 900 per week
House for 7 people € 1000 per week
All prices do not include a € 20 booking fee.
---
Prices from
€650,-
Per week
Arrival & Departure on request
Additional information
---
Number of guests: 6
Number of anglers:
Dogs allowed: No
Lake size: 5084ha
Lake record: 1.20mtr
Facilities: Toilet
Impression video
---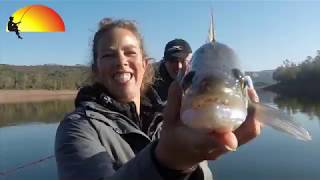 Why book with Angling Escapes?
Safe and trustworthy
Pay directly via various payment methods
4.6 out of 5 stars on
Google
4.5 out of 5 stars on
Facebook
Arranged in 3 simple steps!
Safe and trustworthy
1. Select arrival and departure
2. Enter your information
3. Confirmation and payment

Post a review
Angling Escapes
Average rating:
0 reviews