Etang Morlou – Motorhome, France
Morlou-karper-karpervissen-vakantie-accommodatie-4
Morlou-camper-karpervissen-vakantie-accommodatie-6
Morlou-camper-karpervissen-vakantie-accommodatie-5
Morlou-camper-karpervissen-vakantie-accommodatie-4
Morlou-camper-karpervissen-vakantie-accommodatie-3
Morlou-camper-karpervissen-vakantie-accommodatie-2
Morlou-camper-karpervissen-vakantie-accommodatie-1
Etang-morlou-visvakantie-in-frankrijk-7
Etang-morlou-visvakantie-in-frankrijk-3
Etang-morlou-visvakantie-in-frankrijk-1
About Etang Morlou – Motorhome, France
Etang Morlou is based on a 13.5 hectare estate, with a 3.5 hectare lake within the exclusive grounds. Once immersed in this beautiful setting you'll be greeted with tranquil scenes of rolling hills, horses roaming the surrounding land, Charolais cows grazing in your company and centuries old oak trees provide a timeless setting.
In clearings between the trees you will find five swims on the lake. Two of which have a house on the lake where you can fish in relative luxury and the other three swims are excellent for anglers that prefer to stay in a bivvy, caravan or camper with a maximum of 5 anglers allowed on the lake in total.
---
Family Friendly!
Etang Morlou is one of the better family suited venues available for booking from Angling Escapes. This location offers superb angling, but there's much more to the venue than just angling and it can make for the perfect getaway to please the entire family thanks to the comfort of the chalet on site equipped with two bedrooms and plenty of living space for you to enjoy the natural surroundings.
The lake
Water flows into the lake via a natural spring formed in the forest next to the lake, the water is always fresh, nutrient-rich and makes for a healthy ecosystem. The depth varies between 1m to 2.4 meters at the dam on the right where the water flows out again. The margins consist of hard sand and in the middle of the lake you will find silty and clay like areas to target. There are no nasty snags within the water, it's relatively clean without the presence of weed or other aquatic plants. Some of the trees overhang the waters edge and this can be a good area to target, but there are no obstacles to negotiate. There are two boats on site for your use too so rowing baits out is allowed, please remember to always were a life jacket when using the boats.
The stock
There are between 250 and 275 carp in the lake and it is a varied group, so that the fishing remains exciting. At Etang Morlou you can catch Common, Mirror, Leather and even Ghost carp as well as Koi varieties and Grass Carp too. You really don't know what your next bite will bring and this makes Etang Morlou one of the most exciting venues we have available to you at Angling Escapes. The owner makes a point of emptying the lake every two years and keeping on top of the stock levels to ensure there is always new healthy stock coming into the lake so from year on year the stock is forever expanding and all the smaller fish are removed so that you'll never catch anything less than 14lbs, giving the larger residents more room to grow even bigger! Along with the usual suspects, there is an interesting variety of Sturgeon species within the lake and one very special Pink Grass Carp, some Albino Catfish and  even Golden Orfe as well.
The facilities
Within the grounds there is a toilet building with shower and a washing up room to keep yourself and your kit clean. A daily bread service is arranged by the lake owner at a local bakery and for extra groceries you can go to large supermarkets at about 12-15 km away.
Additional activities
In less than half an hour from here there are two riding schools that have a program for you whether you're a complete novice or a seasoned expert, this can be a great family day out if you want to experience the countryside from a different perspective. One is fully specialized to work with small children, even from 2 years, the other riding school can teach you everything you need to know about horse riding and they even have a showjumping arena. Both riding schools offer outdoor rides that often meander through castles and forests allowing you to experience the rich history of the local area. The cost is around 10 Euros per hour per, person. Around the estate there are more than 700 castles in the near vicinity and some ancient churches to visit too! If you're more of a thrill seeker the beautiful river l'Allier is only 4 km away, where you can take to rapids on wild water canoe trips, or you can simply swim in the crystal clear water and soak up the scenery.
Tags:
caravan
,
carp
,
carpfishing
,
Department Allier
,
fishing
,
fishing pond
,
motorhome
,
paylake
,
vacacion
,
---
Price overview
When you select the arrival and departure day in the agenda, select the number of people / anglers, a price calculation will be displayed automatically. And you can reserve online. Can be booked per week a maximum of 2 persons, of which 1 is a anglers. Non-anglers are free.
Price per week accommodation Gite or Chalet € 550.
Price per week per anglers € 195,- from Saturday to Saturday.
Motorhome 245, –
Electricity € 35, – per week
Extra tent place € 60, – per week
Dog € 35, – per week
All prices excluding € 20 booking costs.
---
Prices from
€ 475,-
Per week
from Saturday to Saturday
Additional information
---
Number of guests: 2
Number of anglers: 1
Dogs allowed: Yes, on Leash
Lake size: 3.5ha
Lake record: 26kg+
Number of pegs: 3
Facilities: Gas,Water,Electricity,Toilet,Shower, Wifi
Impression video
---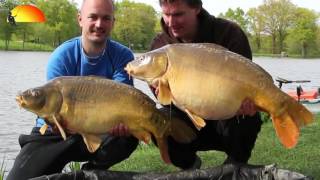 Why book with Angling Escapes?
Safe and trustworthy
Pay directly via various payment methods
4.6 out of 5 stars on
Google
4.5 out of 5 stars on
Facebook
Arranged in 3 simple steps!
Safe and trustworthy
1. Select arrival and departure
2. Enter your information
3. Confirmation and payment

Post a review
Angling Escapes
Average rating:
0 reviews