Carplake Katlov, Czech Republic
betaalwater-tsjechie-katlov-karpervissen-14
betaalwater-tsjechie-katlov-karpervissen-13
betaalwater-tsjechie-katlov-karpervissen-12
betaalwater-tsjechie-katlov-karpervissen-11
betaalwater-tsjechie-katlov-karpervissen-10
betaalwater-tsjechie-katlov-karpervissen-9
betaalwater-tsjechie-katlov-karpervissen-8
betaalwater-tsjechie-katlov-karpervissen-7
betaalwater-tsjechie-katlov-karpervissen-1
betaalwater-tsjechie-katlov-karpervissen-2
betaalwater-tsjechie-katlov-karpervissen-3
betaalwater-tsjechie-katlov-karpervissen-4
betaalwater-tsjechie-katlov-karpervissen-5
betaalwater-tsjechie-katlov-karpervissen-6
About Carplake Katlov, Czech Republic
Lake Katlov is one of the Czech Republic's most prestigious waters and is set in the middle of Bohemia, a place surrounded by sleepy villages and beautiful scenery. This lake has been a long-term project set up by the world famous big fish man, Jakub Vagner. If you are a fan of the National Geographic Channel, you would have seen his impressive TV series, Fish Warrior.
Lake Katlov
Jakub Vagner has planned and created this entire lake, which is rich in vegetation and holds a vast array of features to target. The lake is around 60 acres in size and the stock is mightily impressive with a good head of 20kg+ carp to be caught that are growing fast and have all been hand picked to ensure the quality of fishing is incredible. The lake has 17 double swims and there are toilets and showers that have been finished to a luxurious standard near most swims.
Availabilty
---
CatLake Pohan
Located next to the 60 acre Carplake Katlov you will find the intimate and beautiful CatLake Pohan. This is the place to be if you want to catch a fish of a lifetime. With a large stock of catfish including some specimens over 200lb this is quite simply one of the best venues on the planet to catch giant cats!
Within the lake you will find some interesting species such as giant Mandarin catfish, the mighty Wels and several beautiful carp too. The action here can be really hectic and when you're battling the big cats it can become a serious work out!
You can fish a variety of methods at Catlake Pohan, you can try belly boats and stalk fish whilst afloat in the lake, this can be really exciting. Active lure fishing is one of Jakub's favourite methods and he will no doubt encourage you to try and catch one of the big cats using lure equipment and you can also use conventional static methods too fishing with live bait or pellets. In addition, you can also use a carp rod to target the carp there, but beware as the carts are always feeding so you could get more than you bargained for so ensure your tackle is stepped up enough to handle this situation.
The lake has an island in the middle, 3 large fishing platforms along the sides and there are boats available for you to use. The average depth is 1 to 2 meters, with a deeper part to around 4 meters in the middle. Trees, snags and water grasses border the lake, in short the perfect 'hideout' for catfish in a natural environment.
Upon arrival you can unload and park your car, then you will boat yourself and your kit to the fishing spot. At the meeting point you will find 3 different buildings. The first building is a small tackle shop, the second building is the house of the grounds manager who can see everything nicely from this point and the third building has very clean showers and toilets. On the other side of the lake there is also a shower/toilet facility.
Facilities
Catlake Pohan and Carplake Katlov can now be booked exclusively with 'De Vissende Hollander' holiday trips and are located about 960 kilometers from Amsterdam. Flying to Prague is even faster, a pick-up and drop-off service from the airport to the resort can be booked in the package. Katlov & Pohan have shower and toilet buildings, electricity and wifi in the central parking lot. They also do a meal service on the site and you can rent your fishing equipment and buy bait. In addition, there is always an experienced fishing guide available. If you're looking to make your trip super luxurious then there are also some chalets available on the property. Restaurants and shops can be found within a 15-minute drive from the resort, including many fishing tackle shops.
Tags:
carp
,
carpfishing
,
Czech
,
holiday
,
jakub vagner
,
paylake
,
---
The prices for fishing
The prices include the use of facilities and you may use a rowing boat.
fishing license per week – £315,-  per day per fisherman
permits entire lake 1 week £ 8550 (34 fishermen)
You can also purchase the following items on site
Markers 3 pieces € 12
3 rods including reels € 12 per day
3 Bite alarms, swingers and rod pod € 8 per day
Digital scale € 2 per day
Pitcher pipe € 2 per day
Stretcher € 8 per day
Sleeping bag € 4 per day
two person bivvy € 8 per day
Brolly / umbrella € 4 per day
Chair € 4 per day
Wading suit (please specify shoe size) € 4 per day
Barbecue € 2 per day
Stove 1 pit € 2 per day
Cookware with coffee pot € 2 per day
You can purchase the following items extra
Halibut pellets (5, 10 and 15 kg) € 3 per kilo
Boiled corn 30 kg € 12
Fishing guide 8 hours € 80
Fishing guide 24 hours € 180
Airport transport service € 80 per trip
Shopping service (price in consultation on location)
Meal service (breakfast / lunch / dinner) (price in consultation on location)
Cameraman (price in consultation on location)
---
Availability & Book now
Bookings for this fishing holiday are made in consultation with the owner and can therefore not be made through our automatic booking system.
Communicate your preferences to one of our employees via chat.
You can also reach us by phone on working days between 10:00 and 17:00 on
+44 7432 127981
Prices from
£ 315,- | € 350,-
Per person per week
Arrival & Departure on request
€ 9500,- (34 anglers)
Additional information
---
Number of guests: 34
Number of anglers: 34
Dogs allowed: Yes, on Leash
Lake size: 25ha
Lake record: 25kg+
Number of pegs: 17
Facilities: Gas,Water,Electricity,Toilet,Shower, Wifi
Impression video
---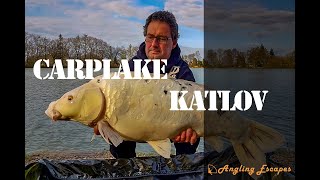 Why book with Angling Escapes?
Safe and trustworthy
Pay directly via various payment methods
4.6 out of 5 stars on
Google
4.5 out of 5 stars on
Facebook
Arranged in 3 simple steps!
Safe and trustworthy
1. Select arrival and departure
2. Enter your information
3. Confirmation and payment

Post a review
Angling Escapes
Average rating:
0 reviews