Catlake Pohan, Czech Republic
About Catlake Pohan, Czech Republic
Catlake Pohan is a huge success! But nevertheless it will change the offer for this location at the end of 2019/2020. Please contact us if you want to know the availability. For the innovations in 2019/2020, keep an eye on our Facebook page or the website.
Less than 1000 km away and you are already at Catlake Pohan near Prague in the Czech Republic! Yes … you read that right! The Czech Republic is closer than you think! Catlake Pohan is owned by the famous fisherman, filmmaker and author Jakub Vagner. He noticed that the demand for fish was sensational catfish very high. This in all sorts of ways from spinning to buoy fishing to even from a Belly boat! A great experience and experience to catch a catfish of 256 cm, right under your flippers!
On Catlake Pohan the catfish have a great average weight of 50 kilos! 150 catfish have been released. And we can tell you with certainty that there are even 15 catfish that weigh more than 100 kilos! At the moment the record is no less than 120 kilos. Can you imagine that? The blow in your rod, that brutal force, the line that is pulled from the reel, the arms soured during the drilling and slowly but surely a monster appears on the surface of the water!
Availabilty
Beschikbaarheid
---
Catlake Pohan
In addition to the beautiful catfish in Catlake Pohan, there are also carp, grass carp, bream, crucian carp, perch and roach. This diversity of fish provides a stable environment for all fish species. You may also fish for the other fish types, but the emphasis is on the presence of catfish. Your fishing trip will be guided by the Catlake Pohan team. This team consists of experienced guides or competition fishermen who specialize in catfish fishing!
Catlake Pohan is 2.5 hectares in size with an average depth of 2.5 meters. The bottom of the lake varies in depth towards the dam and ends in a depth of 4.5 meters. In the direction of the island it rises again and the water becomes shallower again. At Catlake Pohan three cuttings have been created, each cuttings have ample water so that you can optimally enjoy your fishing holiday and carry out your hobby. Because the island is in the middle of the water you will not experience any nuisance from other fishermen.
Peg1
This site is located on the North of Catlake Pohan. You can also reach this site by car. This allows you to easily unload your fishing equipment and then park your car in the parking lot at the caretaker's house and general car park. There is always the possibility to use a boat on location. Under water, a bank edge runs approximately 50 meters from the jetty with a depth of around 1 meter that extends to a depth of 1.5 meters. Immediately in front of the jetty at a distance of approximately 80 meters is also a slope edge where the catfishes are allowed to spend the night. This edge is approximately 3.2 meters deep! This is a nice hotspot in the right period and definitely worth trying.
Stek 1 is suitable for fishing on deeper parts of the water. When you fish on the right-hand side towards cutting 2 you will find the shallower parts. This slope also indicates the fishing sector of cutting 1. The zones are also marked with a buoy or the manager indicates the sector. This site has a nice riser that lies over the water. These risers are provided with holes, so that you can place the standards for the catfish rods here. In this way you can buoy fish or with a breaking line. There is room on the riser to place a double bivvy. When you plan this, it is handy to take pegs that can be mounted in wood.
Peg2
This site is located in the northwest of Catlake Pohan. This site has challenging depths and shallows. The average depth here is between 1 meter and 2.2 meters. The deepest point is approximately 3 meters and is approximately 100 meters from the fishing spot. On the right-hand part of the zone is an island with a depth of around 1.4 meters, making this site extremely suitable for buoy fishing. A deep passage has been created in front of the jetty to trigger and catch the fish. These risers are provided with holes, so that you can place the standards for the catfish rods here. In this way you can buoy fish or with a breaking line. There is room on the riser to place a double bivvy. When you plan this, it is handy to take pegs that can be mounted in wood.
Peg3
This site has a natural jetty / beach and is situated in the south of the Catlake Pohan water. The general parking is located 30 meters behind you. On the right-hand side of this site, there is a bend under the water that is frequently visited by the catfish, when the weather is nice. It is therefore advised to try a buoy assembly here anyway. You can fish a buoy or throw out a spinning rod on this spot! You have ample water in front of the jetty up to the dam which you can fish at a depth of approximately 3 meters. The dam is also an interesting zone with the overhanging trees and reed collars and therefore definitely worth testing!
What is available?
Parking lots
Fishing shop (small-scale on site)
Sanitary facilities (including soap, shampoo, toothpaste, toilet paper)
Unhooking mat is available for you
Gloves for landing the catfish
Charging your batteries or mobile phones is possible in the caretaker's house (at the parking lot)
Good advice from our managers and when they have more time they are willing to provide more guidance.
Necessary materials
The manager will check your material for accuracy and whether it meets the requirements.
Buoy fishing: For fishing rods with more than 400 grams of lead weight, nylon main line is prohibited.
Use the following: braided main line for 60 kilos in combination with an advance for 100 kilos.
Good hooks are from the following brands: Owner, Gamakatsu, Mustad or Madcat.
If you are fishing buoy, you may only use a system for two single hooks with a maximum 6/0 size.
Spinning and or bellyboat
..is only allowed from the jetties at your fishing spot / jetty unless this is allowed in consultation with the manager. With your wading suit you may NOT enter the water in your own sector deeper than hip height! Remember that some taluud edges fall very quickly. You will also receive a depth map of the water with the reservation, be careful when you go into the water with the wading suit that there may be deep embankment edges. Depending on whether you want to spin on perch or catfish, the rod will have to be equipped with the right material.
The line must have a minimum breaking force of 30/40 kg. You may use Twisters with a Jighead with a single hook on the tailpiece. Use of a dredge with a maximum size of 2/0 is also permitted. Plugs or blinkers / spoons are specially designed for catfish and fitted with good hooks. Each plug or lure that you use may have a maximum of a single dowel of 3/0.
Tags:
---
Prices
Price per fisherman € 80 per 24 hours
Price per non-fisherman € 2 per 24 hours
You can rent the following extra items:
Fishing rods including reels € 20 per day
Spinning rods including a spinning mill € 12 per day
Two fishing rod supports (there are also special fishing rod supports that can be placed in the scaffolding) € 4 per day
Stretcher € 8 per day
Sleeping bag € 4 per day
Two-person bivvy € 8 per day
Chair € 4 per day
Wading suit € 4 per day
It is also possible to buy / rent the following on location:
Halibut pellets
Boiled corn
Shopping service (price in consultation on location)
Meal service (price in consultation on location approx. € 20 per day)
Cameraman (price in consultation on location)
Fish guide 8 hours € 80
Fish guide 24 hours € 160
Tourist guide to the town of Kutná Horna
If you have special wishes, you can pass them on, almost anything is possible.
---
Availability & Book now
Bookings for this fishing holiday are made in consultation with the owner and can therefore not be made through our automatic booking system.
Communicate your preferences to one of our employees via chat.
You can also reach us by phone on working days between 10:00 and 17:00 on
+44 7432 127981
Prices from
€ 83,-
Per week
from Friday to Friday
Additional information
---
Number of guests: 12
Number of anglers: 6
Dogs allowed: Yes, allowed to roam freely
Lake size: 2,2 ha
Lake record: 100kg+
Number of pegs: 3
Facilities: Gas,Water,Electricity,Toilet,Shower, Wifi
Impression video
---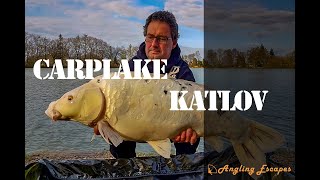 Why book with Angling Escapes?
Safe and trustworthy
Pay directly via various payment methods
4.6 out of 5 stars on
Google
4.5 out of 5 stars on
Facebook
Arranged in 3 simple steps!
Safe and trustworthy
1. Select arrival and departure
2. Enter your information
3. Confirmation and payment

Post a review
Angling Escapes
Average rating:
0 reviews