Aquadev, France
15-aquadev-karpervisvakantie-frankrijk-karpervissen-accommodatie-saone-et-loire
14-aquadev-karpervisvakantie-Frankrijk-karpervissen-accommodatie-saone-et-loire
13-aquadev-karpervisvakantie-frankrijk-karpervissen-accommodatie-saone-et-loire
12-aquadev-karpervisvakantie-frankrijk-karpervissen-accommodatie-saone-et-loire
11-aquadev-karpervisvakantie-frankrijk-karpervissen-accommodatie-saone-et-loire
10-aquadev-karpervisvakantie-frankrijk-karpervissen-accommodatie-saone-et-loire
09-aquadev-karpervisvakantie-frankrijk-karpervissen-accommodatie-saone-et-loire
08-aquadev-karpervisvakantie-frankrijk-karpervissen-accommodatie-saone-et-loire
01-aquadev-karpervisvakantie-frankrijk-karpervissen-accommodatie-saone-et-loire
02-aquadev-karpervisvakantie-frankrijk-karpervissen-accommodatie-saone-et-loire
03-aquadev-karpervisvakantie-frankrijk-karpervissen-accommodatie-saone-et-loire
04-aquadev-karpervisvakantie-frankrijk-karpervissen-accommodatie-saone-et-loire
05-aquadev-karpervisvakantie-frankrijk-karpervissen-accommodatie-saone-et-loire
06-aquadev-karpervisvakantie-frankrijk-karpervissen-accommodatie-saone-et-loire
07-aquadev-karpervisvakantie-frankrijk-karpervissen-accommodatie-saone-et-loire
About Aquadev, France
Aquadev is a stunning venue hidden deep in the french countryside. The lake is lined by rich and luscious flora that provides a quiet and beautiful landscape in which you can totally escape from the outside world. The mystique of this secret lake becomes apparent when you arrive at the car park – you'll expect to see the waters edge upon arrival, but you will be greeted by an expanse of greenery where the lake remains hidden within. If you then follow the stairs down through the matured tree line, you will end up in your own piece of paradise, surrounded by no less than 6 hectares of enchanting nature!
The view across the water from the beach is sensational and the beauty of this matured water is impossible to ignore. Only the sounds of nature can be heard and you will realise just how enjoyable a week spent in this angling paradise will be.
All you have to do now is book your favoured week and send yourself to one of the most relaxing and nature pure lakes you will ever encounter.
---
The fish stock
The water was purchased in 2009 by the friendly French owner Eric Devigne, who also speaks good English. The water was not emptied after purchase to check the existing number of fish that reside in there so it is not known what the exact fish stock is. Maybe there are still some surprises left to find in this magical water? Eric has a well established network of fisheries and and fish farms that he works or acquaints himself with and due to this he has stocked some exceptionally beautiful fish into Aquadev.
Accommodation
A stunning waterside chalet was built on the venue in 2014. The facilities and build is modern, comfortable and the waterside chalet is perfect for groups of 4. Within the cabin there is a dining space, a twin burner stove and all the necessary pots and pans to cook up a feast fit for a king. On the outer deck of the chalet there is a beautiful veranda that measures over 30m2, it's the perfect place to unwind with a glass of wine and enjoy a barbecue whilst looking out onto the water.
Due to the sophisticated accommodation combined with the lakes topography, Aquadev is recommended for winter bookings as well as the popular summer months. There is a wood burner within the chalet that will keep you toasty and warm in the colder periods and the owner will bring you fresh wood and water every day.
Sanitation
There is a log cabin near the car park that hosts a shower and a toilet. The water from the shower and the toilet is fed through the lake via a filter system and hot water is supplied by a generator. There is also a larger kitchen area here to wash dishes too.
The Swims
To get your equipment to your chosen swim, you can drive past the car park and you can take your car down to the beach of site 2.
Here you can load your things into the boat and sail to site 1 on the other side, so you don't have to lift them all down the stairs. You are completely free to decide what you want to do yourself, but moving kit by boat is usually the preferred option for our customers. In addition to the cabin on Aquadev, you also have the option to place bivvies if you want to fish other areas.
The Lakebed
In shallower parts of the lake there is some weed growth, but this is certainly not problematic and it's easy to work around. The bottom consists mainly of sand and gravel, but in the middle there is a softer sediment to target as well. There are several hard bottom areas to find too.
Services
You get fresh drinking water from the owner every day, which is included in the price.
You can also ask the owner to bring baguettes or croissants. These can be ordered t cost price.
On location there is free:
2 canoes
2 boats
3 batteries
2 electric motors
1 depth meter
3 unhooking mats
5 storage bags
2 weighing bags
2 landing nets
Surroundings
In the nearby village of Saint Maurice les Chateauneuf, about 3 minutes from Aquadev, you can find a bakery and a butcher shop. You can also eat delicious pizza here or go to other restaurants too. If you want to find a big supermarket, you can go to Chauffailles, which is a 15-minute drive from Aquadev.
Foto's
If you would like to see more photos of Aquadev, please visit our Facebook page Angling Escapes
Tags:
accommodation
,
carp
,
carpfishing
,
chalet
,
fishing pond
,
fishtrip
,
house
,
paylake
,
vacacion
,
vauban
,
---
Price overview
Prices Whole lake 2 anglers € 795,- pro week
Nonanglers charge € 30 per day, but they may cast a fishing rod for white fish and predator fish.
All prices include tourist tax and exclude a € 20 booking fee.
---
Availability & Book now
Bookings for this fishing holiday are made in consultation with the owner and can therefore not be made through our automatic booking system.
Communicate your preferences to one of our employees via chat.
You can also reach us by phone on working days between 10:00 and 17:00 on
+44 7432 127981
Prices from
€ 795,- | £ 795,-
Per week
from Saturday to Saturday
Additional information
---
Number of guests: 4
Number of anglers: 2
Dogs allowed: Yes, allowed to roam freely
Lake size: 2,5ha
Lake record: 28kg+
Number of pegs: 3
Facilities: Gas,Water,Electricity,Toilet,Shower
Impression video
---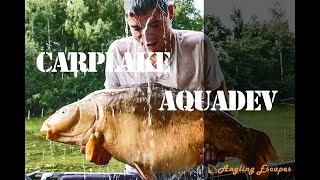 Why book with Angling Escapes?
Safe and trustworthy
Pay directly via various payment methods
4.6 out of 5 stars on
Google
4.5 out of 5 stars on
Facebook
Arranged in 3 simple steps!
Safe and trustworthy
1. Select arrival and departure
2. Enter your information
3. Confirmation and payment

Post a review
Angling Escapes
Average rating:
0 reviews