Glory Carp Lake
glory-carp-lake-betaalwater-nederland-karpervissen-11
bernd-werner-glory-carp-lake-oploo
chipreader-glory-carp-lake-oploo
edwin-wouters-glory-carp-lake-oploo
oliver-2-glory-carp-lake-oploo
oliver-3-glory-carp-lake-oploo
oliver-4-glory-carp-lake-oploo
stekfoto-2-glory-carp-lake-oploo
stekfoto-glory-carp-lake-oploo
Wilbert-laros-glory-carp-lake-oploo
glory-carp-lake-karpervissen-oploo-10
glory-carp-lake-karpervissen-oploo-1kopie
glory-carp-lake-ernesto-kamming-nederland-karpervissen-11
About Glory Carp Lake
Just 3 and a half hours from Calais, near the small village of Oploo in Holland, you'll find 12 acres of pure supercharged 'next -generation' carp fishing heaven. A picturesque gravel pit as old as the hills, but with all the scientific twists and turns of what Carp Fishing will become over the years to follow.
With marginal shelves of 4 foot, sloping gracefully into depths of 28 in areas, what's hidden beneath the surface is a whole host of fast-growing Jurassic madness. Carp nurtured lovingly from egg, to produce huge growth rates as well as majestic beauty. Large hard fighting Dutch Valkeswaard mirrors, through to handpicked Hungarian Euro Aqua carp.
Nothing has been left to chance in the recreation of Glory Carp Lake's development and no stone unturned in making this NEW Carp Mecca the place of dreams. A water built for the modern-day angler with luxury in abundance. From fresh running water to every swim, through to Wi-Fi and fridge supply in the monumentally large and well thought out swims. No expense has been spared with the running of electricity and digital cabling to each swim alongside hard bottom boats with electric outboard motors with fully charged batteries in readiness for your arrival.
'No hidden extras' was a MUST in the owners brief for Glory Carp Lake when it came to its ongoing customer base. No charge for electricity, no angler costs for boat hire and only the very best bait is delivered to you within the cost. Inclusive means just that INCLUSIVE!
---
The fish stock
The lake is provided on an exclusive booking basis only for up to 8 anglers. There are four generous double swims making this venue extremely well thought out and social for all who visit. The lake itself hosts 700 carp, all following a scientific growth plan via precision baiting from KCB International. When not fished, these fast-growing hungry water pigs are fed up with 800kg of diet specific boilies per week, taking into consideration both the eco system as well as defined growth rates. Every carp has been electronically tagged, and as visiting carp anglers you are provided with a scanner for your captures, and the opportunity to download Glory Carp Lakes App so you too can contribute to the lake's logs and progress. Each scan, on capture, will show when the carp was last caught, from what swim and more shockingly its growth weight since its last capture.
Carp were stocked up to 57lb from inception and logs now show growth gains up to and over 9kgs. With an average of 6kg weight per 9 months with many yet to be caught, hence the power of each fighting water warrior.
Swim facilities
In addition to every luxury requirement within each swim, you'll find the brand-new, purpose-built clubhouse will aid you in your much needed resting times. With two jumbo walk-in showers, toilets and kitchen aids, all hosted on heated floors with dehumidify systems, you'll find we have thought of everything to make your stay memorable beyond your expectations.
Inclusive within this price:
Slings/Mats/Nets/Tripod
Hard Bottom Boat
Outboard Motor, charged Battery and life jackets
Swim Fridge
Swim Running Water
Exclusive use of Clubhouse and Facilities
Cable WiFi
Fish Scanning Chip Reader
4 x Double Swims
Up to 8 Anglers
Tags:
boat allowed
,
carpfishing holiday
,
Fishing in the Netherlands
,
oploo
,
---
Price overview
When you select the arrival and departure day in the calendar, tick exclusive lake for 8 anglers, a price calculation will automatically be displayed and you can easily book online.
To book:
Per week per swim for 2 anglers: £900,- from Saturday to Saturday.
The lake exclusive 4 swims for 8 anglers: £3400 per week from Saturday to Saturday.
Non angler £70 per week
Inclusive within this price:
Slings/Mats/Nets/Tripod
Hard Bottom Boat
Outboard Motor, charged Battery. Life jackets not included.
Swim Fridge
Swim Running Water
Exclusive use of Clubhouse and Facilities
Cable WiFi
Fish Scanning Chip Reader
All prices are exclusive € 20 booking costs.
---
Prices from
£900,- 2 anglers
Per week
from Saturday to Saturday
Lake exclusive £3400,- 8 anglers
Additional information
---
Number of guests: 2
Number of anglers: 8
Dogs allowed: Yes, on Leash
Lake size: 5ha
Lake record: 28kg+
Number of pegs: 4
Facilities: Gas,Water,Electricity,Toilet,Shower, Wifi
Impression video
---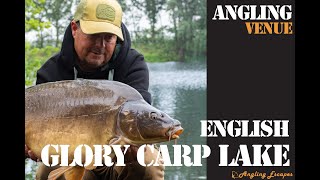 Why book with Angling Escapes?
Safe and trustworthy
Pay directly via various payment methods
4.6 out of 5 stars on
Google
4.5 out of 5 stars on
Facebook
Arranged in 3 simple steps!
Safe and trustworthy
1. Select arrival and departure
2. Enter your information
3. Confirmation and payment

Post a review
Angling Escapes
Average rating:
0 reviews