CarpDream, Netherlands
karperdroom-herpen-karpervisvakantie-nederland-accommodatie-visvakantie-18
karperdroom-herpen-karpervisvakantie-nederland-accommodatie-visvakantie-17
karperdroom-herpen-karpervisvakantie-nederland-accommodatie-visvakantie-16
karperdroom-herpen-karpervisvakantie-nederland-accommodatie-visvakantie-15
karperdroom-herpen-karpervisvakantie-nederland-accommodatie-visvakantie-14
karperdroom-herpen-karpervisvakantie-nederland-accommodatie-visvakantie-13
karperdroom-herpen-karpervisvakantie-nederland-accommodatie-visvakantie-12
karperdroom-herpen-karpervisvakantie-nederland-accommodatie-visvakantie-11
karperdroom-herpen-karpervisvakantie-nederland-accommodatie-visvakantie-3
karperdroom-herpen-karpervisvakantie-nederland-accommodatie-visvakantie-4
karperdroom-herpen-karpervisvakantie-nederland-accommodatie-visvakantie-5
karperdroom-herpen-karpervisvakantie-nederland-accommodatie-visvakantie-6
karperdroom-herpen-karpervisvakantie-nederland-accommodatie-visvakantie-7
karperdroom-herpen-karpervisvakantie-nederland-accommodatie-visvakantie-8
karperdroom-herpen-karpervisvakantie-nederland-accommodatie-visvakantie-9
karperdroom-herpen-karpervisvakantie-nederland-accommodatie-visvakantie-10
karperdroom-herpen-karpervisvakantie-nederland-accommodatie-visvakantie-2
karperdroom-herpen-karpervisvakantie-nederland-accommodatie-visvakantie-1
About CarpDream, Netherlands
Deep in the Dutch countryside lies a beautiful lakes known locally as Artjeswiel, UK anglers have come to know this venue as Carpdream because of its idyllic location and the stunning carp that live within the intimate water. Around the lakes perimeter it is bordered by beautiful tall trees, which makes the venue feel extremely tranquil and hidden away from the hustle and bustle of daily life.
The water is clear and the depth ranges from 1 to 3.5 meters so there is plenty of options to sight fish and set traps accordingly to their movements. This is a very popular lake throughout the summer and because of the nice accommodation on site, it is also well-kept in the colder periods, if the summer is booked up then you should consider an autumn or winter stay here as the lake still fishes well and the on-site accommodation is superb.
---
Accommodation
At the waters edge you'll be greeted by a spacious bungalow, suitable for up to 4 people, including a swimmingpool. The bungalow has a fully equipped kitchen, microwave, toilet, shower, TV and seating area. There is also a double bed in one room and 2 more single beds in the annex, with their own toilet facilities. Through the patio doors of the bungalow you come to the terrace where you can fish from directly if you wish too, there's plenty of room for rod pods on the terrace. It's worth noting that there are several swims around the lake for you to fish so it may be convenient to fish from the bungalow decking, but it's not always the best option to catch the most fish.
Exclusive booking

Artjeswiel is only rented exclusively which means that your party will have the entire venue at your disposal throughout your stay. This is also an ideal location for people with families or simply a nice place to go with your friends or partners. If you want to see more than just our tranquil lake in the Dutch countryside during your stay, then you could venture out to some popular attractions nearby, such as Herperduin Nature Park, the historic town of Ravenstein or a visit to the Duchess Ward or the Meuse.
Unhooking mat / Cradle + Scale, Sling and landing nets are present on location! 
Dogs are allowed, owners are expected to ensure they clean the excrement and the dogs are not allowed on the furniture.
Tags:
carp
,
carpfishing
,
fish pond
,
Fishing with Family
,
fishtrip
,
holland
,
Karperdroom
,
Netherlands
,
paylake
,
---
Price overview
When you select the arrival and departure day in the calendar, a price calculation is automatically displayed. And you can book online.
Can be booked per weekend, midweek or week:
• Price per weekend € 695, – for 4 people
• Price per midweek € 795, – for 4 people
• Price per week € 995, – for 4 people
All prices exclude € 20, – booking costs.
---
Prices from
€ 695,-
Per week / midweek / weekend
Fri to Fri, Mon to Mon
Mon to Fri, Fri to Mon
Additional information
---
Number of guests: 4
Number of anglers: 3
Dogs allowed: Yes, allowed to roam freely
Lake size: 0,7ha
Lake record: 27kg+
Facilities: Gas,Water,Electricity,Toilet,Shower
Impression video
---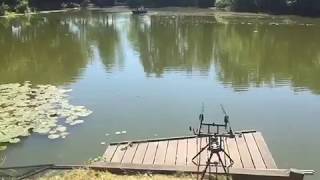 Why book with Angling Escapes?
Safe and trustworthy
Pay directly via various payment methods
4.6 out of 5 stars on
Google
4.5 out of 5 stars on
Facebook
Arranged in 3 simple steps!
Safe and trustworthy
1. Select arrival and departure
2. Enter your information
3. Confirmation and payment

Post a review
Angling Escapes
Average rating:
3 reviews
Sep 9, 2020
Class venue, great house and you can fish straight out the front of it too! Had a great week away with the lads :)
Aug 9, 2020
I took my family to CarpDream and we had a great stay. The bungalow was well kept and had everything we needed to make a comfortable holiday. The booking process was super easy too, we booked the whole thing through the website and the fishing was just brilliant. My son even caught a new PB! Would definitely recommend!
Jul 20, 2020
For the price, this venue was so worth it! One thing to note for others who are thinking of booking, you should plan ahead as this venue seems to get sold out quickly. We booked one and a half years in advance, but it was certainly worth the wait. and did I mention how good the price is and it includes accomodation !