Caspe Fishing, Spain
meervalvissen-in-spanje-caspe-grote-meerval-14
meervalvissen-in-spanje-caspe-grote-meerval-13
meervalvissen-in-spanje-caspe-grote-meerval-12
meervalvissen-in-spanje-caspe-grote-meerval-11
meervalvissen-in-spanje-caspe-grote-meerval-10
meervalvissen-in-spanje-caspe-grote-meerval-9
meervalvissen-in-spanje-caspe-grote-meerval-8
meervalvissen-in-spanje-caspe-grote-meerval-7
meervalvissen-in-spanje-caspe-ebro-meerval-1
meervalvissen-in-spanje-caspe-ebro-meerval-2
meervalvissen-in-spanje-caspe-ebro-meerval-3
meervalvissen-in-spanje-caspe-ebro-meerval-4
meervalvissen-in-spanje-caspe-grote-meerval-5
meervalvissen-in-spanje-caspe-grote-meerval-6
About Caspe Fishing, Spain
Caspe Fishing is located in the rural town of Caspe on the Ebro River in Spain. And offer you an all-inclusive package with accommodation, fishing permits, fishing equipment and meals. This is a picturesque area of ​​Spain, where the huge river Ebro is dammed at the town hall of Mequinenza. The Ebro is one of the best known rivers in Spain. And many fishermen want to catch their record carp here or catch one of the giga catfish. You can arrive at Caspe Fishing at 14:00 or later. You must leave the apartment clean before 10:00. If you want to arrive or depart outside of these times you can ask us in advance. It is also possible to use a Transport service from the airport to Caspe Fishing. But we do recommend that you rent your own transport so that you can also use it on location.
Caspe Fishing is located on the Penninsular De Chacon which is 10 minutes drive from Caspe, Peninsular The Chacon is a small village on the banks of the River Ebro with the apartments just 50 meters away from your boat and a fishing area. It is also possible to bring a pet. But this must be discussed in advance.
---
Accommodation
Caspe Fishing has 3 apartments. The apartments have a certificate for tourism use by the local government. The apartments have 3 spacious bedrooms and a large balcony with chairs and can accommodate 6 people per apartment. All apartments are in the same building. So if you are with more people, the group will be divided among other things into apartments.
• Kitchens are equipped with all kitchen utensils, kettle, microwave, fridge-freezer, hob and breakfast bar
• Bedrooms have bed linen and towels, bedside tables, chest of drawers, wardrobe.
• All beds are single beds.
• Lounge has a dining table and a sky freeview (shared space)
• 2 Showers and toilets including toilet rolls
• Cleaning agents
• BBQ Area (shared space)
• WIFI available at a one-off cost
• 30 liter beer barrel available on request
The rooms are rented from 2 people with a maximum of 6 people per apartment. You will have to share the shower, toilet and kitchen if you do not rent the entire apartment. When you place a reservation for 6 people you have the apartment to yourself
Meals
Breakfast is served in the morning at 8 a.m. Caspe Fishing provides lunch around 1 p.m. and this consists of half a baguette with varied fillings. This takes your wishes into account. There is also coffee, tea and a fruit drink. Dinner is provided 5 nights a week by catering and mainly consists of tasty and well-filling dishes! (Here too we take into account as allergy sufferers. We do a BBQ twice a week except when the weather is bad then or we get different food.The BBQ is really great, with thick steaks, burgers, chicken legs and Spanish sausages.
Boats
When you have made a reservation, this also includes a boat. There are 10 steel Xpress boats available with 15hp gasoline engines, with which you can easily sail out your lines. Or that Giga catfish drills from the water. These are equipped as standard with 3 life jackets, paddles and depth gauges.
For carp anglers it is possible to get a rubber boat when booking with an electric motor. There are a total of 4. Indicate when booking when you would like to go for this option.
There is also a beautiful predator fishing boat.
A 4.5 meter Quicksilver with frontroller and 3 seats. This boat is ideal for actively fishing the Ebro! This can be rented at an additional cost. Please indicate when you would like to go for this option when booking.
It is also possible that you bring your own boat when it goes to 4 people. The additional cost for this is € 200. Please indicate when you would like to go for this option when booking.
Please note that the prices below are excl. Gasoline.
Fish material that is available for you
You have a boat with gasoline engine + 20Ltr. Gasoline.
2 catfish rods or carp rods
Mills with line and bank sticks.
Landing net
Unhooking mat
You must bring your own
Take line material or purchase it on location.
Ace is going to be purchased on location per additional cost.
Bite alarms and swingers
extra options
Pellets € 60 per 20 kg
Beer and soft drinks € 1 per can
Underline with 2 lead pieces per person!
450gr lead € 4
Transport service from Zaragoza airport € 300, – max. 6 people.
Rules
Although we hope that everyone enjoys the Spanish atmosphere and the friendly attitude of the locals, we must bring some of the rules that you should be aware of to your attention:
• A fishing license is required in Spain to be fished in each province (this will be arranged prior to arrival).
• Fishing is only permitted from 6 a.m. in the morning to midnight at midnight.
• No overnight stays on the waterfront.
• Anyone who wants a boat with an engine over 14 hp must have a small boat license.
• We argue for a catch and return policy to maintain this as an excellent fishing place.
• Make sure you have a good trip and cancellation insurance yourself.
• If you are dependent on special medication, make sure you have it with you in plenty.
• Please note that due to the layout of the flat, wheelchair access is not possible.
To fully enjoy your trip, we recommend that you take the following:
• Hat or head cover
• Sun Lotion
• Mosquito repellent
• Camera or video camera
• Head lamp
• Terminal Tackle
• Spare batteries
• Chargers and adapters
Tags:
---
Price overview
The prices include overnight stay in the apartment complex on the waterside. Bed linen, fitted kitchen, catfish material, carp material, boat, basic explanation about fishing. Including food and drinks (excluding beer and soft drinks).
€ 750 per week per angler
€ 500 per week per non-angler
Extra options
Pellets € 60,- per 20 kg
Beer and soft drinks € 1 per can
End tackle with 2 lead pieces per person 450 g lead € 4
Transport service of the Zaragoza airport € 500 max. 6 people.
---
Prices from
€750,-
Per week
Arrival day free of choice
Additional information
---
Number of guests: 18
Number of anglers: 18
Dogs allowed: Only in consultation
Lake size: public water
Lake record: 2.30mtr
Facilities: Gas,Water,Electricity,Toilet,Shower, Wifi
Impression video
---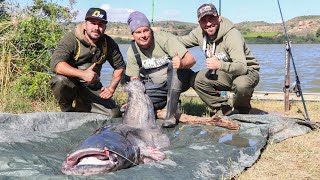 Why book with Angling Escapes?
Safe and trustworthy
Pay directly via various payment methods
4.6 out of 5 stars on
Google
4.5 out of 5 stars on
Facebook
Arranged in 3 simple steps!
Safe and trustworthy
1. Select arrival and departure
2. Enter your information
3. Confirmation and payment

Post a review
Angling Escapes
Average rating:
0 reviews