Etang du Grand Foret, France
Etang-Foret-karper-noord-frankrijk-visvakantie-bivvy-betaalwater-13
Etang-Foret-karper-noord-frankrijk-visvakantie-bivvy-betaalwater-12
Etang-Foret-karper-noord-frankrijk-visvakantie-bivvy-03
Etang-du-grand-orient-ronnie-pylser-6
Etang-du-grand-orient-frankrijk
Etang-du-grand-orient-frankrijk-karpervissen
Etang-du-grand-orient-bjorn-verbeeck-holland-baits-15
Etang-du-grand-orient-bjorn-verbeeck-holland-baits-6
Etang-du-grand-orient-bjorn-verbeeck-holland-baits-1
Bjorn-verbeeck-holland-baits-etang-du-grand-foret-7
About Etang du Grand Foret, France
In the North of France, next to "Lac Du Temple", "Etang du Grand Foret" is located in the beautiful nature reserve Parc naturel régional de la Forêt d'Orient. Many people also know the water as Grand Orient or Etand du Grand orient.
We have chosen to call it Etang du Grand Foret. Because there is a lot of confusion with the super large water Orient. Those who love nature will be impressed here and will be quiet about the beautiful surroundings. In terms of fishing, it is a big challenge because of the lily fields that emerge in the high season.
Etang Du Grand Foret is 8 hectares and is located in the middle of nature. So you feel like you are all alone in complete tranquility with only the sounds of nature around you. It is a challenging and difficult location due to the obstacles you have to work around in the water. But the hard work is certainly worth it, with the fish stock that is swimming here!
---
The water
Etang du Grand Foret is also known as Etang du Grand Orient. We named the location Etang du Grand Foret, because there was a lot of confusion with De Orient, the water that is nearby. What is called Parc naturel régional de la Forêt d'Orient.
The water is notionally divided into 7 zones with 6 swims, so that a maximum of 10 anglers can fish. At the end of 2015, the owner created plush swims and a new gravel track leading to the lake. The depths vary from half a meter to 4 meters and there are 2 islands in the water. The bottom is mostly soft, but here and there you will find a number of hard spots. We recommend that you bring waders as there is an abundance of marginal obstacles in some swims that often require wading out to ensure the safe landing of fish. On some parts there is an abundance of weed, of course the carp love this! Although problematic weedbeds can can make things tricky so you can use rowing boats / dinghies to fish the water more effectively.
Services
At the entrance of Etang du Grand Foret is an attractive building / clubhouse where you can stay in if the weather is bad. Here there is also a simple kitchen, a large fireplace and the shower and toilet facilities. The shower water is taken from a well and then filtered. So please note it is not drinking water unless boiled. The clubhouse is also equipped with solar panels so that you can charge your electrical items.
When the sun is not shining enough, not charging the clubhouse batteries sufficiently there is a generator if you want to use it. We recommend that you bring a Jerrycan of petrol (95 unleaded) to use the generator on location.
There are 4 boats at the location, but the condition of the boats is no longer optimal. If you have your own boat, we advise you to bring it with you.
In the warmer months there may be thicker weed. Take this into account with your fishing. Waders are also recommended for this water.
The fish
Etang du Grand Foret is originally a hunting area and the entire site is 400 hectares. In 2011 new managers arrived, which created the possibility for fishing on site. The water has a natural and very old stock that is not known, but in the past has amazed hunters to see the shadows swimming around on the surface. The water has been further stocked with some fish that pass the 20 kilos mark and they've since been growing year on year. The average weight that has been caught weighs around 16 kilos and the biggest fish to date weighs 29kg+.
Tags:
bivy
,
carp
,
carpfishing
,
carptrip
,
department Aube
,
fishing
,
Orient
,
paylake
,
vacation
,
---
Prices overview
When you select the arrival and departure day in the agenda, select number of people / fishermen, a price calculation is automatically displayed. And you can book online.
Can be booked per week for a maximum of 8 people, including 8 fishermen
Not fisherman £63 | € 70, –
Price per fisherman £ 270 | € 300 (on Etang du Grand Foret only 2 or 3 person swims are rented)
Whole lake £ 1620,- | € 1800, – (Select 3x a two person swim, please double check if all 6 pegs are available)
All prices include tourist tax and exclude a € 20 booking fee.
---
Prices from
£270 | €300,-
Per week
from Saturday to Saturday
Gehele meer: € 1800,- (8-10 pers.)
Additional information
---
Number of guests: 16
Number of anglers: 10
Dogs allowed: Yes, on Leash
Lake size: 8ha
Lake record: 29kg
Number of pegs: 6
Facilities: Gas,Water,Electricity,Toilet,Shower
Impression video
---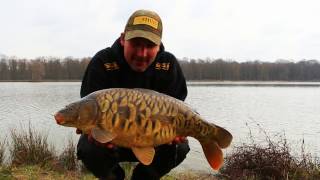 Why book with Angling Escapes?
Safe and trustworthy
Pay directly via various payment methods
4.6 out of 5 stars on
Google
4.5 out of 5 stars on
Facebook
Arranged in 3 simple steps!
Safe and trustworthy
1. Select arrival and departure
2. Enter your information
3. Confirmation and payment

Post a review
Angling Escapes
Average rating:
0 reviews